Chavez warns he could halt oil exports
'VIVA CHAVEZ!' Ahead of next month's presidential elections, the Venezulan president warned domestic forces and Washington not to meddle in the process
Venezuelan President Hugo Chavez vowed to win the upcoming Dec. 3 election and warned that Venezuela could halt oil exports to the US if his opponents, joined by the US government, attempt to destabilize his administration.
Chavez also reiterated that government opponents are not welcome in the military or the state-run oil company Petroleos de Venezuela SA (PDVSA). A day earlier, he suggested those who do not like his leftist policies should go somewhere else, like Miami.
"If they try to destabilize PDVSA, if the empire and its lackeys in Venezuela attempt another coup, ignore the outcome of the elections or cause election or oil-related upheaval we won't send another drop of oil to the United States,'' Chavez told oil workers on Saturday at PDVSA facilities in the coastal city of Puerto La Cruz, 240km east of Caracas.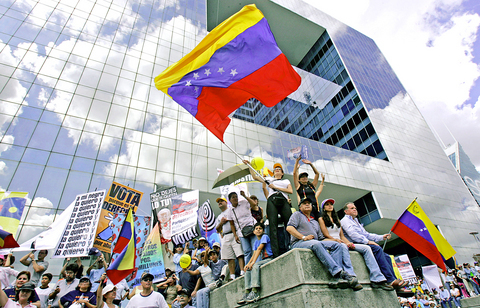 Supporters of Venezuelan opposition candidate Manuel Rosales flutter national flags during a rally in Caracas on Saturday.
PHOTO: AFP
Chavez -- a close ally of Cuban leader Fidel Castro -- said that US President George W. Bush "had better tie down his crazies here in Venezuela" to prevent a possible end to petroleum exports.
The president also defended Oil Minister Rafael Ramirez, who was caught on videotape threatening to fire state employees who oppose the left-leaning leader.
"Repeat it 100 times a day," Chavez told Ramirez. "PDVSA belongs to the revolution!" he added.
Television footage released last week by opposition supporters showed Ramirez telling PDVSA workers to back Chavez or give up their jobs. Opposition leaders said it was clear proof of political coercion, violating rules against the use of state institutions as campaign tools.
Earlier on Saturday, Venezuela's top presidential challenger, Manuel Rosales urged PDVSA employees to help vote Chavez out of office.
"They can be assured that nobody is ever going to know for whom they voted," Rosales told reporters during 26km march through the capital, which drew tens of thousands into the streets to endorse his candidacy.
Rosales' campaign said electoral officials can fine Ramirez a maximum of US$7,800 if it determines campaign rules have been broken. It also is demanding an investigation by prosecutors.
In comments published on Friday by the Venezuelan daily newspaper Ultimas Noticias, Ramirez said that he did not violate campaign rules as there was no explicit call "to vote for one candidate in particular but rather we backed President Chavez as head of state."
He said that more internal videos would be released to quell any doubts.
During the march on Saturday, Rosales also promised to bring prosperity to this poverty-stricken South American country while railing against Chavez for repeatedly telling his political allies that being rich is bad.
"He says that people have to be poor their entire lives. He says, `Why have a nice house and a nice car?' I say, yes, one can have a nice house and a nice car," Rosales told reporters. "We are going to change this government's outdated ideology for work and progress."
More than 1,000 police officers were deployed along the route to prevent clashes between Rosales supporters and "Chavistas" who gathered on street corners, shouting "Viva Chavez!" and "Oh, No! Chavez Won't Go!" as marchers passed.
Comments will be moderated. Keep comments relevant to the article. Remarks containing abusive and obscene language, personal attacks of any kind or promotion will be removed and the user banned. Final decision will be at the discretion of the Taipei Times.