Nazis' `master race' children meet
TELLING THEIR STORIES Thousands of children selected for their Aryan qualities were also part of Nazi Germany's racial experiments, and they too suffered
Each one has a different story, yet they all bear the same hallmarks: lied to about their past, abnormal birth certificates, an inner feeling that something isn't quite right.
Gathered on Saturday in an eastern German village, some 40 Lebensborn Kinder shared stories of aunts who turned out to be mothers, ice-cold adoptive parents who slid into alcoholism and the joy at finding a relative who embraced them as a member of their family.
And this year, four years after they first started meeting and one year after they became an officially organized group, they gathered to tell their story to the public, seeking to correct historical misconceptions that Nazi's Lebensborn program was a high-end bordello offering blue-eyed blondes to SS officers.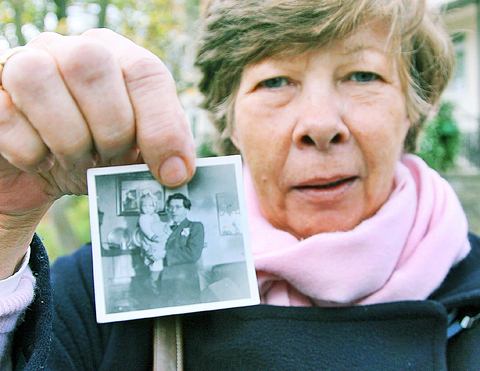 Violette Wallenborn presents a photo of herself in the arms of her father during a visit to a former ``Lebensborn'' home in eastern Germany on Saturday. She was born as one of the so-called ``Lebensborn'' children in Norway.
PHOTO: AP
"We need to find the courage to public, to tell our stories as long, as long as we are still alive," urged Violette Wallenborn, whose mother was a Norwegian singer and father a Nazi choir director.
While the previous meetings have focused on providing support for one another and swapping tips on how to query for documents to track down relatives, telling the story is increasingly an aim of the association, called Lebenssupren, or "Tracing Life."
Gisela Heidenreich, the daughter of a German secretary and an SS commander who was born into a Lebensborn home in Norway, stressed the importance of telling the story of Lebensborn in schools.
"Pupils today know all the facts, their historical knowledge is very good, but they don't have any emotional relationship to it," she said. "The story of Lebensborn is so important because it's about families; mothers, fathers, children, it's something they can relate to."
Because 60 percent of the women who gave birth in Lebensborn homes were unmarried -- a stigma in those conservative times -- the births were kept secret. In the final days of the war, the Nazis destroyed many documents hoping to covering their tracks.
Although the bordello myth -- started by a magazine shortly after the war -- is not true, the Lebensborn program was the other side of the Nazi's racial experiments. While millions of Jews and others deemed "undesirable," were slaughtered, these children were carefully selected for their Aryan qualities and brought into the world in comfortable surroundings.
Of the estimated 5,500 born into Lebensborn homes, some went home with their mothers, but many others were given over to families of high-ranking SS officers, to be raised in the Nazi doctrine.
After the Nazis overran Germany's neighbor states in 1940, German occupation soldiers were encouraged to find suitable local mates. Ten Lebensborn homes were set up, where some 8,000 children were eventually born.
Two years later, the Nazis began seeking out blue-eyed, blonde-haired children in neighboring countries and sending them back home to be "Germanized."
One of them, Folker Heinicke, 66, considers himself one of the more fortunate. Kidnapped at the age of 2 by the SS in what is present-day Ukraine for his Aryan qualities and shipped back to Germany by train, he was brought to the Sonnenwiese, or "Sunny Meadow" Lebensborn home near Leipzig.
There, he was adopted by a wealthy family, where he prospered. Still, a feeling nagged him.
"There was always the feeling that something wasn't quite right," Heinicke said. "It happens when you have no mother, no father, no roots."
Like many Lebensborn children, Hans-Ullrich Wesch, 64, still suffers from the feeling that no one really wanted him. As a schoolboy, he was threatened with being returned to an orphanage if he didn't behave.
"That created a fear that has stayed with me my whole life," he said.
Comments will be moderated. Keep comments relevant to the article. Remarks containing abusive and obscene language, personal attacks of any kind or promotion will be removed and the user banned. Final decision will be at the discretion of the Taipei Times.