Baghdad braces for Saddam conviction
CURFEWS ORDERED All military leave has been canceled and special security measures put into place in the capital as well as the key provinces of Diyala and Salaheddin
Iraq braced itself yesterday for a violent backlash from former president Saddam Hussein's remaining supporters if, as expected, he is sentenced to death in his trial for crimes against humanity.
Officials refused to confirm details of the crackdown, amid a flurry of high level meetings, but National Security Advisor Muwaffaq al-Rubaie said there would be a curfew today in Baghdad and flashpoint provinces.
Five members of Iraqi President Jalal Talabani's security detail were killed in a roadside bomb attack on Friday in northern Iraq, a source from his party said. Talabani was out of the country and in no personal danger.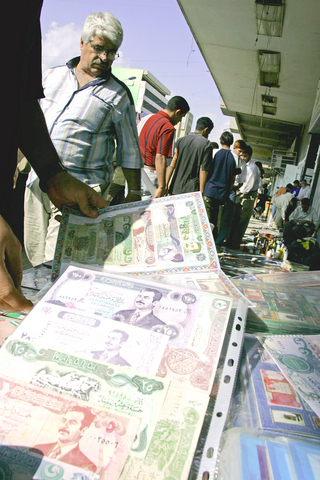 An Iraqi street vendor sells old Iraqi dinars bearing the image of former president Saddam Hussein yesterday. Iraq is bracing for a violent backlash from Saddam's supporters if, as expected, he is sentenced to death today for crimes against humanity.
PHOTO: AFP
A car bomb exploded in the sprawling Sadr City suburb of Shiite east Baghdad, a security official said, as violence in and around the Iraqi capital killed at least eight people in a series of gun and bomb attacks.
Saddam and seven former officials face a verdict today in their trial for ordering the killing of 148 Shiites in the early 1980s in the village of Dujail, where Saddam escaped an assassination bid in 1982.
It is feared that the verdict, in which Saddam faces a possible death penalty, could trigger widespread violence in already war-torn Iraq between remaining supporters of the former president and his many enemies.
As an immediate security measure, Iraq ordered a curfew in the country's two most violent provinces -- Baghdad and Diyala -- and in the northern province of Salaheddin, which contains Sadddam's hometown of Tikrit.
In addition to the curfew, more "security measures are under consideration," Rubaie told reporters.
Iraq has canceled all military leave and put its armed forces on alert to prevent violence before or after today's ruling by the Iraqi High Tribunal.
"All military personnel are on alert. Leave has been cancelled and we are on alert for any possible emergency. Those on leave should report to their units," defense ministry spokesman Major General Ibrahim Shaker said.
Baghdad, which is already reeling under a brutal campaign of insurgent and sectarian violence, is expected to be virtually sealed off today as the chief judge in the Dujail trial, Rauf Abdel Rahman, delivers his verdict.
Iraqi authorities fear that Sunni Arab supporters of the ousted president will carry out attacks against the dominant Shiite community, whose representatives now rule the country.
Shiite militia -- enemies of Saddam -- are the main suspects in yesterday's rocket attack which wounded four Russians and killed an Iraqi colleague working for the Basra Electricity Co.
Russia was planning to repatriate the wounded men.
British military spokesman Major Charlie Burbridge said mortars or rockets had been fired at a nearby British base, but had fallen short and hit the power plant. Police said one Iraqi worker was killed.
A gunbattle also erupted in Baghdad during the early hours as US and Iraq forces raided the Shiite bastion of Sadr City and detained three suspects.
The US military said the raid was aimed at capturing a leader and member of a group that had killed "innocent Iraqi citizens and security forces." There were no casualties among the joint force, it added, but gave no details on whether any militants or civilians had been hurt.
One civilian was killed and seven were wounded yesterday when a bicycle bomb exploded at a gasoline station in Suweira.
Comments will be moderated. Keep comments relevant to the article. Remarks containing abusive and obscene language, personal attacks of any kind or promotion will be removed and the user banned. Final decision will be at the discretion of the Taipei Times.