HRW urges bombing inquiry
CREDIBLE ACCOUNT The onus is now on Pakistani authorities to provide a credible account of the legitimacy of the deadly Oct. 30 attack on a school
The US-based advocacy group Human Rights Watch yesterday urged the Pakistani government to allow an independent investigation into the bombing of a religious school that killed 80 people.
Residents in troubled Bajaur tribal agency said the dead were students and teachers, but President Pervez Musharraf has argued that they were all militants and that the school functioned as an al-Qaeda training camp.
"The Pakistani government should allow independent investigators into the area to determine who carried out the attack, how it was planned and executed, and who was killed," HRW South Asia researcher Ali Dayan Hasan said.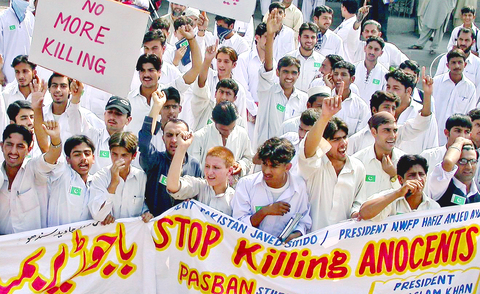 Pakistani students chant anti-government slogans during a protest rally yesterday in Peshawar to condemn the Oct. 30 bombing in the tribal area.
PHOTO: AP
"The onus is on the Pakistani government to provide a credible account of the legitimacy of the attack resulting in the deaths of so many," Hasan said in a statement.
Pakistani troops have stopped journalists and some politicians from entering the area since the helicopter gunship strike on Monday, and troops yesterday completely sealed off Bajaur.
Around 15,000 armed tribesmen protested there on Tuesday.
Pointing to claims that most of those killed were civilians and not combatants or militants, the group asked the government to justify the legality of the attack.
"If the government fails to provide a credible account of what happened, it will undermine legitimate anti-terrorist efforts," Hasan said, adding that the country should allow investigators and reporters into the area so that they can determine what happened.
Pakistani security officials say that al-Qaeda deputy leader Ayman al-Zawahiri and London airliner bombing plot mastermind Abu Obaida al-Misri had frequently visited the seminary in the past.
The attack followed months of surveillance and was necessary as the training camp's chiefs were "in a hurry to push them out after training for attacks" in Afghanistan or Pakistan, the officials said.
Comments will be moderated. Keep comments relevant to the article. Remarks containing abusive and obscene language, personal attacks of any kind or promotion will be removed and the user banned. Final decision will be at the discretion of the Taipei Times.