Typhoon kills 10 in Philippines
Typhoon Cimaron headed toward Vietnam yesterday after cutting a trail of destruction through the main Philippine island of Luzon, leaving 10 people dead, two missing and thousands in evacuation centers, civil defense officials said.
People remained in the evacuation centers in several provinces due to flooding and worries about landslides.
Two people were killed by landslides in the northern province of Benguet while three drowned and another was killed by a falling tree, officials said.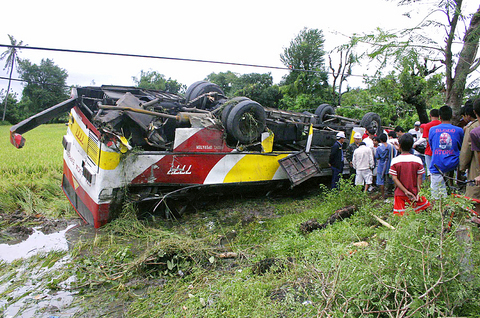 Philippine police and villagers look at an overturned passenger bus by the highway in Bacnotan, La Union, on Monday. Investigators said the bus driver lost control due to the slippery roads as Typhoon Cimaron battered the area overnight.
PHOTO: AFP
Power remained out in parts of northern Luzon after powerlines were brought down, the civil defense office said.
Luzon is the Philippines' most populated island and its rice bowl.
Cimaron, a category-five storm or "super typhoon," tore up trees, power lines, roofs and destroyed houses and roads.
The typhoon, the second to hit the Philippines in more than a month, weakened as it swept out of the archipelago on Monday and was churning westwards towards Vietnam with winds of 120km per hour and gusts of up to 150km per hour.
The storm packed winds of up to 230km per hour and torrential rain. It slammed into the eastern coast of the northern Philippines late on Sunday and moved across the islands on Monday.
Cimaron was expected to pick up speed as it moved across the South China Sea and weather forecasters warned it could change direction and hit China.
"If it continues with its path it will affect Vietnam, but there is a good chance it will shift north and will likely affect Hainan and if it continues its upward direction, maybe Hong Kong," said Robert Sawi, a forecaster with the Philippines weather bureau.
Officials have expressed relief that there were far fewer deaths with Cimaron than earlier this month, when Typhoon Xangsane pounded northern Luzon, killing more than 200 people and leaving hundreds of thousands homeless.
The Philippines cut its annual agricultural growth target to around 4 percent for this year from at least 5 percent due to the destruction wrecked by Xangsane.
Preliminary estimates indicated that Cimaron may have destroyed about 114 billion pesos (US$2.3 billion) worth of crops, fisheries and livestock.
Comments will be moderated. Keep comments relevant to the article. Remarks containing abusive and obscene language, personal attacks of any kind or promotion will be removed and the user banned. Final decision will be at the discretion of the Taipei Times.