Wen pledges to continue 'opening'
CRITICISM Rights groups and journalists have panned recent moves in China to control foreign news agencies
Chinese Premier Wen Jiabao(溫家寶) has pledged that his country will continue to open to the rest of the world, despite new controls imposed by the government on foreign news agencies.
"The Chinese government will continue to adhere to a policy of opening ourselves to the outside world. We will protect the legitimate rights and interests of foreign media who do coverage in China," he said in a speech to about 150 business leaders at a central London hotel on Tuesday.
Wen was to meet with British Prime Minister Tony Blair on yesterday, and is due to travel to Germany later in the week to attend an economic conference and meet with Chancellor Angela Merkel.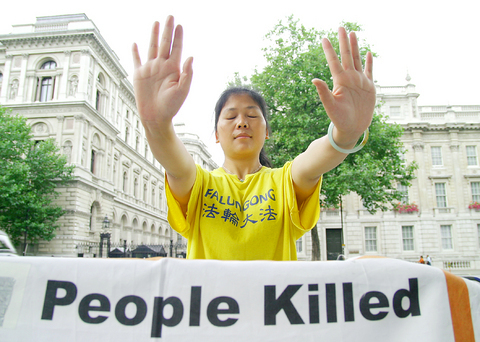 Falun Gong practitioners exercise outside the gates of 10 Downing Street in London on Tuesday. Chinese Premier Wen Jiabao is expected to meet with British Prime Minister Tony Blair today to discuss strengthening trade ties, energy policy and resolving the Iran nuclear crisis, officials said.
PHOTO: AFP
But Wen said that respect must go two ways, warning foreign media seeking to cover China that they must defer to the country's laws.
"We will work to ensure that financial and economic information will flow uninterrupted. We trust that the foreign media will ... observe all Chinese laws and regulations," he said.
Wen is China's top economic official and the third-highest leader in its communist hierarchy.
Journalists and human rights groups have criticized new controls on foreign news agencies as harmful to Chinese society and a possible threat to coverage of the 2008 Beijing Olympics.
Regulations released on Sunday give the government's Xinhua News Agency control over distribution within China of news, information and other services from foreign agencies. Xinhua said it would delete items deemed to violate national unity or social stability.
Xinhua has said the new rules were intended to promote the distribution of news and information in a "sound and orderly manner."
Questioned at the London dinner, Wen reassured his audience that the dissemination of financial and economic information would not be restricted in any way.
Wen, who is on a two-day visit to Britain as part of a week-long European visit, attended a summit of Asian and European leaders in Helsinki over the weekend and on Tuesday morning met with Finnish Prime Minister Matti Vanhanen, whose country holds the rotating presidency of the EU.
Wen is using his European tour to highlight economic ties and ease concerns voiced about his country's environmental and human rights records. He is also expected to appeal for the EU to lift a 17-year ban on arms sales to Beijing.
Iran's nuclear ambitions and the looming humanitarian crisis in Sudan were also among the topics to be discussed by Wen and Blair at yesterday's meeting.
The Chinese premier first visited Britain in 2004 and Blair paid a return visit last year. Both countries have set up working groups to discuss areas where they could cooperate together, including energy, education, finance and sustainable development.
Chinese officials said Wen and Blair will also sign an agreement on climate change during the visit.
Comments will be moderated. Keep comments relevant to the article. Remarks containing abusive and obscene language, personal attacks of any kind or promotion will be removed and the user banned. Final decision will be at the discretion of the Taipei Times.