Baghdad deaths higher than reported
MAJOR REVISION The final tally for those killed in Iraq's capital in August jumped to 1,536, three times the preliminary estimate given just a few days before
More than 1,500 people died violently in Baghdad last month -- nearly the same number as in July -- and not the dramatic drop estimated just last week, when US and Iraqi officials announced their new security crackdown was working.
The Iraqi Health Ministry says its final tally of violent deaths last month in Baghdad was 1,536. That is nearly three times the same agency's preliminary estimate last week and shows that the epidemic of killings by insurgents and sectarian death squads has not diminished significantly.
Asked on Thursday about a statement late last month by Major General William Caldwell that the murder rate in Baghdad had fallen significantly from July until last month, US spokesman Lieutenant Colonel Barry Johnson refused to comment in detail. He referred reporters to a statement on a US military Web site by Caldwell, which said the murder rate in Baghdad dropped 52 percent last month from the daily rate for July.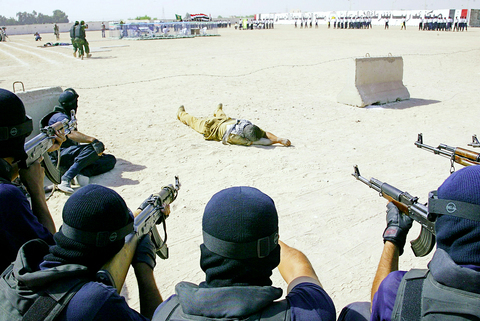 Iraqi police recruits display skills they hope will help halt the killing in their country during their graduation ceremony on Thursday. In a further indication that the death toll has not been reduced by new security measures, at least 39 people were killed in Iraq across the country that day in a wave of bombings and shootings.
PHOTO: AFP
The Health Ministry offered no explanation for how the original estimate of 550 violent deaths last month could have been revised upward so dramatically.
The final figures, based on reports from morgues and hospitals, showed that 1,536 people died in Baghdad in last month because of sectarian and political violence, Deputy Health Minister Hakem al-Zamly said.
The revised tally could be due in part to a surge that saw more than 250 people die in bombings and shootings in Baghdad during the final week of last month.
Delays in gathering information could have also played a role. The Health Ministry bases its monthly counts on reports from government hospitals and morgues, many of which are understaffed and lack computers.
Either way, the new numbers raise serious questions about the success of the security operation. US and Iraqi officials have been eager to show progress in restoring security in Baghdad at a time when the country appears on the verge of civil war and support for the war is declining in the US.
The confusion over the numbers underscores the difficulty of obtaining accurate death tolls in Iraq, which lacks the data reporting and tracking systems of most modern nations. When top Iraqi political officials cite death numbers, they often refuse to say where the numbers came from.
The ongoing violence in Iraq has reached the point that the White House on Thursday revealed what may be a US diplomatic first: the US embassy in Baghdad now houses a formal "Office of Hostage Affairs" to handle abductions of American citizens and other nationals.
"The United States, through the Office of Hostage Affairs in Embassy Baghdad, is addressing the scourge of kidnapping in Iraq, a key source of terrorist financing," a White House source said.
Meanwhile, the Iraqi government confirmed that it has decided to close the Baghdad offices of the Arab satellite channel al-Arabiya for a month because it was inciting "sectarian violence."
Thursday's decision was condemned by the New York-based Committee to Protect Journalists, which noted that the Iraqi government also continues to enforce a two-year-old ban on Arabic satellite channel al-Jazeera.
According to an Iraqi government statement, the decision came after July's "final warning to al-Arabiya in hopes they will change their way of presenting coverage" which it said "promoted sectarianism and violence."
Comments will be moderated. Keep comments relevant to the article. Remarks containing abusive and obscene language, personal attacks of any kind or promotion will be removed and the user banned. Final decision will be at the discretion of the Taipei Times.