Chinese official warns builders of earthquake risks
A senior Chinese official has warned architects and builders of the risk of earthquakes as they continue racing to erect ever-higher skyscrapers, according to a government Web site yesterday.
In a speech at a national meeting of construction experts last month, Deputy Minister of Construction Huang Wei (黃衛) said many steel or steel-reinforced concrete structures were not designed to withstand earthquakes.
Huang said more research was needed on quake-proof designs for buildings over 100m high.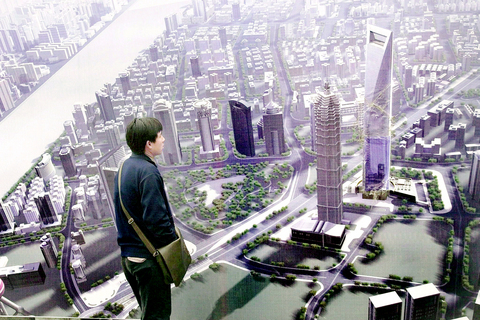 A pedestrian looks over a computer rendering of what will be the world's second-tallest building, the Shanghai World Financial Center, at far right, in Lujiazui financial district on March 23. The 101-story, 492m high building is scheduled for completion in 2008.
PHOTO: EPA
China's booming economy and a penchant for flaunting wealth has sparked a competition among cities to build the tallest building in the country, in the region or even in the world.
The latest competitors include Shanghai's World Financial Center, to stand 492m tall on completion, and the new television transmitter tower in Guangzhou with a designed height of 600m.
But most of these skyscrapers would be located in areas vulnerable to strong earthquakes, Huang warned.
He also expressed concern over an increasing number of buildings designed by foreign architects, many of whom lacked experience in designing structures that are quake resistant.
He warned that some of the buildings with unusual structures designed by these foreign architects may risk being seriously damaged in an earthquake.
They included the 230m tall headquarters of China Central Television, made up of two inverted L-shaped towers and designed by Dutch architect Rem Koolhaas, he said.
Comments will be moderated. Keep comments relevant to the article. Remarks containing abusive and obscene language, personal attacks of any kind or promotion will be removed and the user banned. Final decision will be at the discretion of the Taipei Times.