Sri Lanka blasts rebels for `hostility'
ONE MONTH Colombo branded the LTTE deadline for changes in the the truce monitoring mission as hostile and urged the peacekeepers to remain
Sri Lanka yesterday said the Tamil Tigers had laid down a "hostile deadline" after the rebels said EU nations should quit the nation's truce monitoring mission within one month.
The rebel demand, made after the EU officially branded the Tigers a terrorist group, would force out 37 of the 57 monitors now in Sri Lanka to observe the country's increasingly shaky ceasefire signed in 2002.
In a statement the Sri Lankan government urged the Swedish-led mission, known by its acronym SLMM, to continue operations.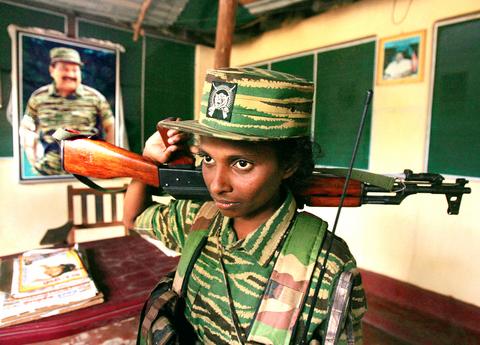 A Tamil Tiger rebel looks on before a photograph of the group's leader, Velupillai Prabhakaran, at an undisclosed location in northern Sri Lanka, on Wednesday.
PHOTO: AP
unreasonable
"The government of Sri Lanka urges the SLMM to continue to carry out its mandate despite the unreasonable stance of the LTTE [Liberation Tigers of Tamil Eelam]," the statement said.
"The time period of one month insisted on by the LTTE for effecting changes in the composition of the SLMM is tantamount to the imposition of a hostile deadline by the LTTE," it said.
The LTTE told peace broker Norway on Wednesday that it did not want monitors from EU members Denmark, Finland and Sweden.
The diplomatic bickering comes amid a growing threat of renewed war on the embattled island, where more than 60,000 people have died in the Tamil separatist conflict since 1972.
"The LTTE's demand that SLMM monitors from EU countries be replaced is deeply regrettable and will weaken the SLMM in a critical period," Norway's top peace envoy, Erik Solheim, said earlier in a Norwegian government statement.
impractical
Colombo on Thursday agreed to a six-month transitional period for monitors suggested by Norway, calling the one-month Tiger demand impractical.
But in its new statement the government refused to be left out of negotiations over the composition of the SLMM.
"It is not a matter for unilateral decision making by the LTTE or to be determined between Norway and the LTTE," it said.
Each side has accused the other of recent hostilities, from bus bombings to shelling and artillery strikes that have killed hundreds in the northern and eastern parts of the country.
Comments will be moderated. Keep comments relevant to the article. Remarks containing abusive and obscene language, personal attacks of any kind or promotion will be removed and the user banned. Final decision will be at the discretion of the Taipei Times.