Tehran cool on talk of deadline
TIME DIFFERENCE The Iranian president said Tehran would respond in August to an incentive package, but Western powers still want an answer by the end of this month
Iranian President Mahmoud Ahmadinejad said on Wednesday that Iran would take more than a month to give a formal response to an international proposal to resolve the dispute over its uranium enrichment program.
US President George W. Bush responded that it seemed "like an awful long time" to wait for an answer.
The proposal offers Iran a package of incentives in exchange for freezing its nuclear activities. When it was put forth early this month by the five permanent members of the UN Security Council and Germany, Western diplomats said Iran would have only weeks to respond.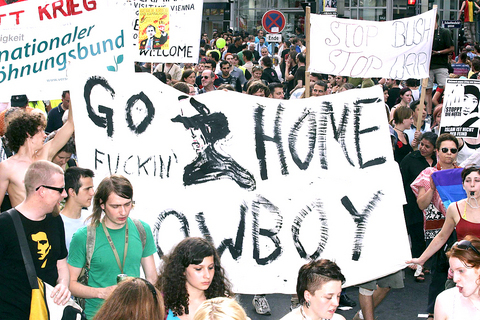 Demonstrators march during a rally in downtown Vienna on Wednesday, protesting against US President George W. Bush's visit.
PHOTO: EPA
That position appeared to remain intact on Wednesday. US Secretary of State Condoleezza Rice, who was in Vienna with Bush meeting with allies, had telephoned her European counterparts, including Russian Foreign Minister Sergey Lavrov, to discuss Ahmadinejad's comments.
"They agreed to stick to the current timeline," the administration official said. "That timeline is still the end of the month."
The official, who asked that his name not be used because he was not authorized to speak publicly on the issue, said that if Iran did not respond within the allotted time, the expectation was that the countries involved would "start moving down the other pathway," of seeking UN sanctions.
Ahmadinejad has previously said he regards the international proposal as a "step forward," but has insisted that Iran has the right to enrich uranium for civilian uses.
"We want equal and fair negotiations with no precondition," the Iranian Students News Agency quoted him as saying.
He said Iran would announce its response to the proposal sometime toward the end of August.
"Iranian people stand firmly to defend their rights and will not give in to pressure even an iota," he said later, according to the agency.
At a news conference in Vienna, Bush expressed some impatience over Ahmadinejad's remarks.
"It shouldn't take the Iranians that long to analyze what is a reasonable deal," he said.
On Monday, Bush warned Iran to suspend its uranium enrichment program or face the consequences. He said the US remained willing to join multinational talks with Iran, but only if Iran immediately suspended the enrichment program.
If Iran rejects that offer, he said, "It will result in action before the Security Council, further isolation from the world and progressively stronger political and economic sanctions."
On Wednesday, Iranian Foreign Ministry spokesman Hamidreza Assefi similarly brushed off the idea of a deadline and said Bush's language was unacceptable.
"Europe, in a correct move and with understanding of Iran's mentality, has not set any deadline in its proposal," he said during a news conference. "Even if there was a deadline in the proposal, the Islamic Republic would not have accepted it."
Comments will be moderated. Keep comments relevant to the article. Remarks containing abusive and obscene language, personal attacks of any kind or promotion will be removed and the user banned. Final decision will be at the discretion of the Taipei Times.