Drug abuse rising as heroin, synthetics flood China
Illicit drug use was on the rise in China with international cartels flooding the nation with heroin as well as new synthetic drugs, the government said yesterday.
"At present there is a flood of international drugs and the numbers of countries and regions where these drugs are going is increasing," Chen Cunyi (陳存義), vice head of the National Narcotics Control Commission told journalists.
Chen said the types of drugs and the quantities being produced, especially in the Golden Triangle region, were increasing as well as the number of people using them.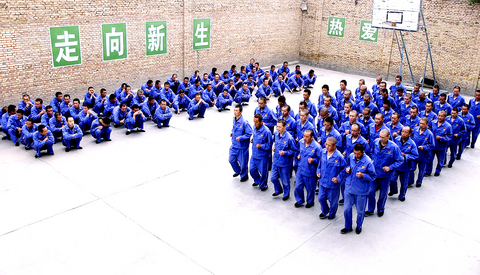 Inmates at a drug rehabilitation center take part in a sing-a-long session to boost their morale in Lanzhou, Gansu Province, on Wednesday. Illicit drug use was on the rise in China last year, with international drug rings flooding the nation with new synthetic drugs as well as traditional drugs like heroin.
PHOTO: AFP
"Faced with this situation, there is no room for optimism in China's fight against illicit drugs," he said.
Ongoing efforts to stem the tide of heroin coming from the Golden Triangle bordering southwestern China, Myanmar and Laos, have resulted in a 16 percent drop in production there last year, a commission report said.
But manufacturers in the region were increasingly turning to producing synthetic drugs like methamphetamine which were subsequently flooding Chinese cities, the report said.
"The Golden Triangle area remains the drug source posing most serious harm to China," the report said.
"Although the opium poppy cultivation area in this region decreased sharply, the vast majority of heroin manufactured there is still trafficked into China," the report said.
Last year, police in Yunnan Province confiscated 2.35 tonnes of methamphetamine manufactured in the Golden Triangle, about 48 percent of the total confiscated nationwide during the period and a 154 percent increase over 2004, it said.
Still heroin remained the choice of 78 percent of Chinese drug users last year, the report said, with more of the drug coming from the "Golden Crescent," the world's largest poppy growing area in Afghanistan.
Last year police investigated 1,500 drug trafficking gangs, destroyed 34 drug labs and seized 6.26 tonnes of heroin, 5 tonnes of methamphetamine, 2.1 tonnes of opium and 2.34 million tablets of ecstasy, the report said.
Comments will be moderated. Keep comments relevant to the article. Remarks containing abusive and obscene language, personal attacks of any kind or promotion will be removed and the user banned. Final decision will be at the discretion of the Taipei Times.