Downer meets East Timor leaders
Australian Foreign Minister Alexander Downer held crisis talks yesterday with the leaders of East Timor, trying to end the worst violence in the tiny nation since it split from Indonesia seven years ago.
Downer met East Timorese President Xanana Gusmao, Foreign and Defense Minister Jose Ramos Horta and Prime Minister Mari Alkatiri -- who is blamed by many for the crisis, which led the government to call in 2,250 Australian and other foreign troops.
A heavy show of force for Downer's visit kept order in the streets of the capital Dili, which has been wracked by two weeks of mayhem, arson and gang violence that has left at least 20 people dead.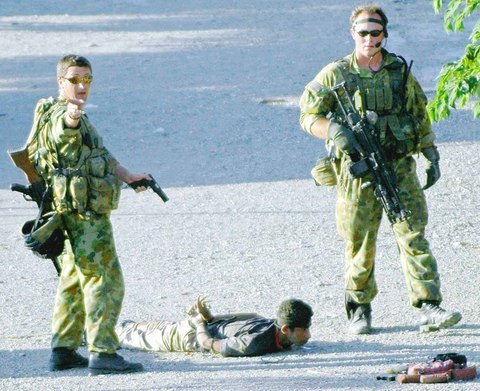 Members of the Australian peacekeeping force detain a man during clashes involving gangs in Dili, East Timor, yesterday.
PHOTO: AFP
But plumes of smoke again appeared in the sky after Downer departed following a four-hour visit, underlining the simmering unrest that has led tens of thousands of frightened people to leave their homes and take refuge in churches and elsewhere.
The Australian foreign minister rejected suggestions from Alkatiri in recent days that the unrest was being engineered by Indonesia, which invaded East Timor in 1975 and held it for nearly a quarter-century.
"We have no evidence at all that any of the violence here in recent times has been coordinated by anybody in Indonesia, or that there has been any Indonesian involvement in it," Downer told reporters.
"Indonesia doesn't want to destabilize East Timor," he said. "I think East Timor can do without [such] canards."
Downer said that he told the Timorese leadership about the need for reconciliation between the country's bickering factions, and called for a new multinational police force in the country to be run by the UN.
"I think it would be appropriate for that police presence, which would obviously include quite a few Australians, to operate under the auspices of the UN," he said.
The violence began after Alkatiri sacked 600 of the country's 1,400-strong army after they went on strike to protest what they said was discrimination against those from the west of the country.
Westerners are generally seen as more pro-Indonesia, a sensitive issue in a country that fought a long and bloody guerrilla campaign, led by Gusmao, to win independence.
Battles between the military and the sacked breakaway troops, under the command of Major Alfredo Reinado, descended into fighting between rival gangs from the east and west of the country.
Gusmao made an emotional plea for national unity on Thursday, two days after he announced he was assuming emergency powers including control over the army -- a move that Alkatiri publicly challenged.
But the president declined to sack the unpopular prime minister, despite calls from the rebels and protesters who have taken to the streets, chanting for Alkatiri to go.
Downer played down those calls and said he had experience of many countries with unpopular politicians.
East Timor opted for independence from Indonesia in 1999, but the referendum was accompanied by an orgy of violence carried out by Indonesian forces and Jakarta-backed militias. Around 1,400 people were killed.
The UN then administered East Timor until full independence in 2002, when guerrilla leader Gusmao became the president. The latest outbreak of violence has been the worst since the days of the bloody independence vote.
"The Australian defense force has been doing an outstanding job here," Downer said. "They've been operating in a difficult environment and they are clearly getting the security situation back together."
Comments will be moderated. Keep comments relevant to the article. Remarks containing abusive and obscene language, personal attacks of any kind or promotion will be removed and the user banned. Final decision will be at the discretion of the Taipei Times.