World News Quick Take
■ Japan
Koizumi saved by baby?
Japanese Prime Minister Junichiro Koizumi has decided to scrap his plan to submit a bill to the parliament to let women inherit the imperial throne, after news that a princess was pregnant raised hopes for a male heir, media reports said yesterday. Despite strong opposition from conservative lawmakers, Koizumi had pledged to present the bill to the current session of parliament to avoid a succession crisis. Only males are currently allowed to inherit the throne, but no boys have been born into Japan's ancient imperial family since 1965. With some cabinet ministers openly questioning his plans, news that Princess Kiko, wife of the emperor's second son, Prince Akishino, was pregnant with her third child gave Koizumi a face-saving way out of a potential political battle, some analysts said.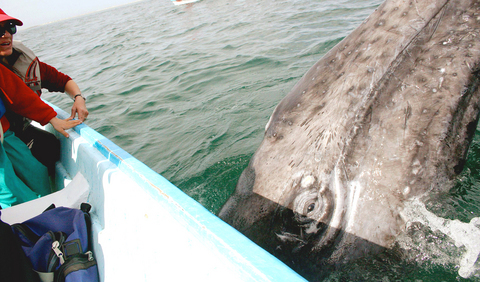 A gray whale looks up at tourists in the Laguna San Ignacio off Mexico's Baja California peninsula on Wednesday. The number of gray whales making the yearly migration from the icy North Pacific to breed in Mexico's warm lagoons has dropped this year, scientists say, possibly because of changing weather patterns.
PHOTO: REUTERS
■ Japan
Eruption plan complete
Japan's government is expected to announce this month measures to deal with a possible eruption of its famed Mount Fuji, officials said, but they added there were no signs that the long-dormant volcano had become active. The 3,776m Mount Fuji has not erupted for nearly three centuries, but signs of increased seismic activity five years ago prompted the government to create a panel to begin work on an evacuation plan. The panel has already outlined ways to evacuate people near Mount Fuji, the best locations for shelters, and envisaged flow routes of lava, ash, gas and rocks. The reports to date have also stressed the need to ensure efficient communications between the central and local governments and residents in the area by using the Internet, television and radio.
■ Cambodia
Opposition leader returns
Cambodian opposition leader Sam Rainsy returned home yesterday after a year in self-exile, promising to work with the government in an apparent end to their long-running battle. "I'm very happy to be here," Sam Rainsy said as he was mobbed by supporters at Phnom Penh airport. "I am very moved. It's a new chapter of Cambodian politics which starts today," he said. When asked whether he could work with Prime Minister Hun Sen, his biggest rival, Sam Rainsy said: "Of course. I will work with anybody to develop the country."
■ Thailand
Guard shoots queue jumper
A stressed-out security guard opened fire on a woman who jumped the queue at a branch of Thailand's largest bank, police said yesterday. The 33-year-old guard was charged with attempted murder for shooting a university student on Thursday after a quarrel that erupted when a queue-ticketing machine broke down. A Bangkok Bank employee was also injured when a second bullet ricocheted and hit her left leg, a police captain said. The guard, Thong-arn Nalard, quarreled with the woman after telling her to get in the queue with other customers. He said she hit him in the back after he accidentally brushed her arm.
■ China
Confusion over bird flu
China has been unable to determine why most of its 11 human cases of bird flu have occurred in areas where no poultry outbreaks have been detected, a health ministry spokesman said yesterday. The health ministry this week announced China's 11th case in the southeastern province of Fujian. As in seven of the previous reported infections, the 26-year-old woman fell ill in an area where the agriculture ministry had not detected the deadly virus among poultry, according to the WHO. In four of these cases the health ministry later found the patients had close contact with sick birds, although the agricultural ministry could still not determine a bird flu outbreak.
■ Afghanistan
Bomb kills eight soldiers
Bomb attacks in rugged eastern mountains yesterday killed eight Afghan troops and wounded six others, an official said, the latest victims of a stubborn insurgency that undermines the country's fragile democracy. The first bomb exploded shortly after midnight as a convoy of troops was returning from an operation in Kunar province. It killed two soldiers and wounded five, said Mohammed Hasan, the regional deputy police chief. Hours later, as other troops were rushing to the site of the first blast, a bomb hit their vehicles and six soldiers were killed and one was wounded, he said.Afghan and US forces often travel on the dirt road where the attack occurred.
■ South Korea
Koreans least happy with sex
Married South Korean women are the least happy with their sex lives, Japanese men are least likely to seek help for erectile dysfunction and French men are the most fond of their frolicking, according to a recent survey. The survey released this week by the pharmaceutical firm Eli Lilly and Co, one of the makers of the anti-impotence drug Cialis, of 1,200 married men and women in South Korea, Japan, France and the US also found the French had the best sex lives followed by the Americans. Lilly Korea said the findings would be released globally next week ahead of Valentine's Day. Less than one in three South Korean women said they were at least "slightly happy" about sex with their husbands, which was the lowest of the four groups of women.
■ Tanzania
Baby feeds on dog's milk
A Tanzanian mother went into hysterics when she found her six month-old baby suckling dog's milk, a local daily reported on Thursday. The mother left her son on a mat while she went to hang clothes in the yard of her Dar Es Salaam home, the Uhuru newspaper said. When she came back to find him suckling on the dog, she screamed and rushed to her brother's house to seek advice. But the brother managed to convince her dog's milk was harmless. "Since that day the baby is doing well and hasn't had diarrhea or any signs of illness," he was quoted as saying. Another relative, who witnessed the incident on Monday, was also unperturbed.
■ United Kingdom
Lost manuscript to be sold
A long-lost 17th-century manuscript charting the birth of modern science has been found gathering dust in a cupboard in a house in southern England. Filled with crabby italics and acerbic asides, the 520 or so yellowing and stained pages are the handwritten minutes of the UK Royal Society as recorded by the brilliant scientist Robert Hooke, one of the society's original fellows and curator of experiments. The notes describe in detail some of the most astounding and outlandish scientific thinking from meetings of the society between 1661 to 1682.
■ United Kingdom
No penalty for shooting
Two London police officers who shot dead a man carrying a table leg which they had mistaken for a shotgun will not face disciplinary action, the police complaints watchdog said on Thursday. Harry Stanley, a 46-year-old painter and decorator, was shot twice in 1999 as he walked home from a pub, after pointing a plastic bag containing a table leg at armed officers. The Independent Police Complaints Commission said it had decided that Chief Inspector Neil Sharman and Police Constable Kevin Fagan should not face further disciplinary action.
■ United Kingdom
Brit charged with US killings
A British man, whose wife and daughter were found shot dead in their Massachusetts home, was arrested in Britain on Thursday and charged with murder, prosecutors said. Neil Entwistle, 27, had been the focus of a murder inquiry since the bodies of his teacher wife Rachel, also 27, and their nine-month-old daughter Lillian were found in bed at their home in Hopkinton, near Boston, on Jan. 22. A spokeswoman for the Middlesex District Attorney said Entwistle had also been charged with illegal possession of a firearm.
■ United States
Tiny mom gives birth
A woman who weighs only 16.87kg and stands 0.91m tall has given birth to her first child. Eloysa Vasquez, 38, suffers from Type 3 osteogenesis imperfecta, a disorder that makes bones soft and brittle. Her tiny, distorted body left little room for a fetus to grow and Vasquez suffered two miscarriages before doctors at Stanford University's Lucile Packard Children's Hospital delivered her son, Timothy, by Cesarean section on Jan. 24. Baby Timothy weighed only 1.56kg because doctors had to deliver him eight weeks prematurely to protect the mother's fragile health. The child did not inherit his mother's genetic condition. Obstetrician James Smith estimated Timothy's birth was a one-in-a-million event.
■ United States
Child busted for harassment
A six-year-old boy was suspended for three days for sexual harassment after he put two fingers inside a classmate's waistband, school officials told his mother, Berthena Dorinvil. The boy told her he only touched the girl's shirt after the girl touched him. The boy's mother called the Jan. 30 suspension from Downey Elementary School in Brockton, Massachusetts outrageous. She said she can't even explain to her son what he did wrong because he's too young to understand. "He doesn't know those things," she told the Enterprise of Brockton. "He's only six years old."
■ United States
Baby delivered in toilet
A premature baby survived after being delivered in a toilet according to Colarado police. "I just had a baby," Salina Newman told the operator when she dialed emergency services on Tuesday, according to transcripts released to the media on Thursday. "I was only six months pregnant and I went to the restroom and the baby is in the toilet." Littleton police officer Bob Carmody said when he arrived at the apartment, Newman told him the baby had been miscarried. "I looked in the toilet bowl and I could see movement,'' Carmody told Denver television stations. He pulled the baby out of the toilet with rubber gloves. The baby girl weighed 0.7kg and was expected to remain in hospital, where until she reaches about 3kg police said.
■ United States
Dope policy draws flak
An Iowa sheriff's decision to hand out tickets instead of arrests for small amounts of marijuana invited a lawmaker's slap that it would be simpler to ban rock concerts and football games. Johnson County Sheriff Lonny Pulkrabek told a legislative committee he would treat possession of small amounts of marijuana like a traffic violation, allowing hundreds of students from the local University of Iowa who are arrested each year to graduate without a criminal record. But Republican legislator Clel Baudler said the notion sends the wrong message to drug users and abusers. "We could simplify law enforcement's job if we didn't have rock concerts. We could simplify their job a lot quicker if we just didn't have football games there where we arrest hundreds of drunks over the weekend." Baudler said.
■ United States
Fossett reaches halfway
Steve Fossett has crossed Asia and Japan and was headed over the Pacific Ocean early yesterday, according to his mission controllers. Fossett needs to spend at least 80 hours in his ultra-light aircraft to break the 1986 record for the farthest flight, set at 40,212km by pilots Dick Rutan and Jeanne Yeager.
Comments will be moderated. Keep comments relevant to the article. Remarks containing abusive and obscene language, personal attacks of any kind or promotion will be removed and the user banned. Final decision will be at the discretion of the Taipei Times.