Deaths add to sectarian strains
INTER-MUSLIM VIOLENCE Three Shiites and at least one Sunni were killed on the heels of a suicide bombing and other strife in which over 28 people died
A battle killed three Shiites and at least one Sunni in a northwestern Pakistani town where a suicide bombing, riots and other violence killed 28 during the previous day, an official said yesterday.
Rockets and guns were used in the new wave of fighting that began late on Thursday and continued yesterday around Hangu, the town's top district administrator, Ghani ur-Rahman, said.
"According to my information, three Shiites and one or two Sunni Muslims were killed in the rocket attacks and gunfire," he said. "This incident happened near Ibrahim Zai area near Hangu," he said.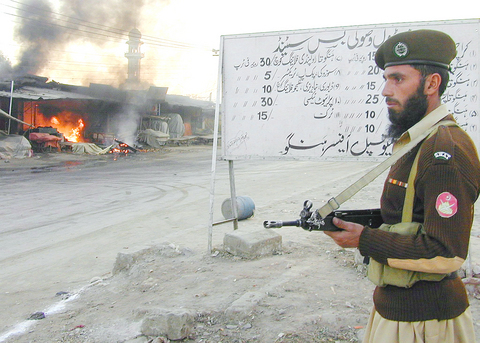 A Pakistani paramilitary soldier takes position yesterday near a suspected suicide blast site in the northwestern town of Hangu. Rival Muslims traded gun and rocket fire in northwest Pakistan for a second day, leaving at least two more people dead. Officials said Shiite and Sunni activists launched mortar rounds at each other in villages near the area.
PHOTO: EPA
Interior Minister Aftab Khan Sherpao confirmed the fighting, but he would not confirm any casualties in the area, about 200km southwest of Islamabad.
"The situation in Hangu is improving. There was a report of firing in the Ibrahim Zai area, but we don't have details," Sherpao told Pakistan's Geo television.
He said religious leaders from both sects were helping authorities to control the situation.
On Thursday, a suicide bombing tore through a Shiite Muslim procession in Hangu. The bombing triggered riots and a fatal shooting on a minibus on the outskirts of the town.
Most shops in the main Hangu bazaar were burned by mobs on Thursday, and other small markets in the area were closed yesterday.
Troops and police were patrolling in the town to prevent any further violence, said ur-Rahman.
Yesterday morning, officials said assailants were firing rockets at Hangu from the mountains
Khurshid Anwar, a prominent minority Shiite Muslim cleric, said he believed the rockets were being fired by Sunni Muslims. They were coming from an area where Sunnis live, he said.
"Those who fired rockets and other weapons wanted to target our people, our homes," he said.
Anwar claimed that a total of 28 people died in Thursday's bombing and the ensuing riots and other violence.
"Our 23 people were killed shortly after the suicide attack on our procession, while five injured died overnight," he said.
Hangu's police chief, Ayub Khan, said that investigators found the remains of the suspected suicide bomber. He said the attacker was wearing Afghan shoes but that didn't necessarily mean he was from neighboring Afghanistan.
He would also not speculate who might have bombed the Shiite procession. Previous such attacks have been blamed on Lashkar-e-Jhangvi, an al-Qaeda-linked Sunni militant group banned by the country's President General. Pervez Musharraf in August 2001 to curb extremism and militancy.
Lashkar-e-Jhangvi has been accused of involvement in the 2002 kidnapping and beheading of US journalist Daniel Pearl. Most of the group's top leaders and associates have been arrested in the past three years.
Thursday's bombing came as the Shiites were marking Ashoura, their most important holiday. They traditionally observe the day with processions mourning the death of Imam Hussain, a grandson of the Prophet Mohammed.
Comments will be moderated. Keep comments relevant to the article. Remarks containing abusive and obscene language, personal attacks of any kind or promotion will be removed and the user banned. Final decision will be at the discretion of the Taipei Times.