US pays tribute to seminal figure in rights movement
The body of Rosa Parks, the seamstress who sparked a black movement for civil rights by refusing to give up her bus seat 50 years ago, lay in honor at the US Capitol on Sunday, the first woman to be paid this tribute.
US President George W. Bush and his wife, Laura, dignitaries and citizens joined in the Capitol rites to honor Parks' powerful legacy. She died last Monday at 92.
Thousands of people lined up outside the Capitol, the building in which the US Congress meets, to pay homage to Parks.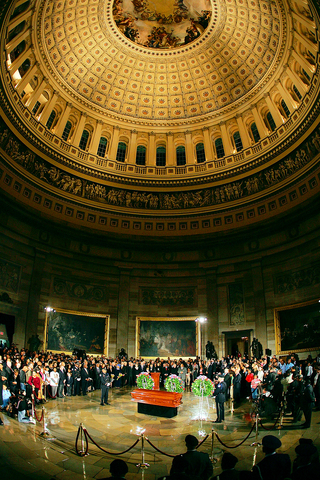 US civil rights icon Rosa Parks is honored in the Capitol Rotunda in Washington on Sunday. Parks, who died on Oct. 24 at the age of 92, changed history on Dec. 1, 1955, when she refused to give up her seat on a city bus to a white passenger.
PHOTO: AFP
"She sparked a fire in our country that allowed me to do many things I wouldn't have been able to do," said Margo Jackson Spencer of Fort Largo, Maryland.
Parks, whose firm refusal to give up her seat to a white man in racially segregated Alabama, sparked more than a decade of non-violent activism for black equality. She is the first woman to lie in honor at the Capitol, where a public viewing is almost always reserved for US presidents and eminent political figures.
Parks's casket was carried up the steps to the Capitol and placed in the center of the Rotunda, the large circular room below the Capitol's dome.
"Tonight, inspired by her life and leadership, as your free children, we say to Mrs. Rosa Parks: Ride on, ride on, ride on in the direction of endless hope to the table of equal justice and eternal peace," said Reverend Daniel Coughlin, the chaplain of the House of Representatives.
A wreath was placed at the foot of her casket, while the Bush and his wife placed a wreath atop it.
The president made no public statement. Earlier he had ordered US flags flown at half-staff in her honor at the White House and all public buildings and grounds on Wednesday, when her funeral and burial would be held in her adopted hometown of Detroit, Michigan.
Born on Feb. 4, 1913 in Tuskegee, Alabama, Parks was one of the first women to join the Montgomery, Alabama chapter of the National Association for the Advancement of Colored People (NAACP) and served as the civil rights group's secretary from 1943 to 1956.
She rocketed to national prominence when, in racially segregated Montgomery in 1955, she refused to give up her bus seat to a white passenger, violating local laws.
Her arrest and US$14 fine sparked a year-long city-wide bus boycott by black riders, and inspired other acts of defiance that blossomed into the national civil rights movement.
Outside the Capitol on Sunday, as many as 10,000 people, mostly African-Americans, waited, some for more than 10 hours, to pay their respects. Many were dressed in their Sunday best and carried signs that read "Thank You Rosa Parks."
"She changed America," said Margo Jackson Spencer of Fort Washington, Maryland.
"A person of any color can sit wherever they want" because of Parks, she said.
Parks's body was flown to Washington following a memorial service earlier on Sunday in Montgomery, Alabama, where she was eulogized by black leaders including Jesse Jackson, US Secretary of State Condoleezza Rice and actress Cicely Tyson, who played Parks in a biographical movie.
"I can honestly say that if it was not for Mrs. Parks, I would probably not be standing here today as secretary of state," Rice said.
Her body was to lie in honor yesterday morning in the Capitol before being flown to Detroit.
Comments will be moderated. Keep comments relevant to the article. Remarks containing abusive and obscene language, personal attacks of any kind or promotion will be removed and the user banned. Final decision will be at the discretion of the Taipei Times.