Chinese astronauts cavort in space
China's space mission was going smoothly as the two astronauts aboard the Shenzhou VI space capsule began their fourth day in orbit yesterday, the government said, after reports that ships tracking the flight were struggling with rough weather at sea.
There was still no official word on when astronauts Fei Junlong (費俊龍) and Nie Haisheng (聶海勝) might land. But Chinese news reports said it could be today or early tomorrow, depending on conditions at the planned landing site in China's northern grasslands.
Newspapers carried front-page photos of Fei turning somersaults in zero gravity -- the latest in a series of personal, even playful, views of the astronauts this week that are a break from the usual secrecy of the military-linked program.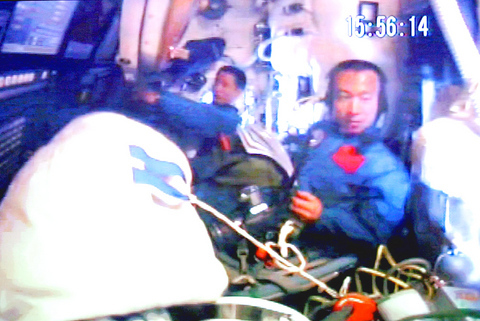 In this photo from Xinhua News Agency, Chinese astronauts Fei Junlong, right, and Nie Haisheng work in the re-entry capsule of the Shenzhou VI spacecraft in this video grab obtained by the Beijing Aerospace Command and Control Center on Friday.
PHOTO: AP
The capsule "has safely traveled in space for three whole days," the official Xinhua News Agency said.
Later yesterday, the astronauts were scheduled to talk to President Hu Jintao (胡錦濤), with the exchange broadcast live on national television and radio, Xinhua said.
Late on Friday, the government said four tracking ships in the Pacific, Indian and Atlantic Oceans were fighting high winds and waves. They were reportedly preparing emergency measures in case conditions worsened, but there was no indication that the landing might be affected.
Racing around the Earth about once every 90 minutes, Fei and Nie had traveled more than 2 million kilometers by yesterday and saw the sun rise and set 48 times, Xinhua said.
The flight, China's second manned space mission, is an effort by the communist government to declare its status as a rising power and is meant to lead to the creation of a space station.
The space mission also is an effort by communist leaders to shore up their standing at home.
They hope to stir nationalist pride amid public anger at widespread corruption and a widening gap between a wealthy elite who have benefited most from China's 25-year-old economic boom and the vast, poor majority.
The mission "glorifies the Communist Party and the motherland," state television said on its national evening news on Friday.
Xinhua said the crew took notes on ocean pollution, the atmosphere and vegetation and performed unspecified scientific experiments.
The Shenzhou VI flight already is much longer than China's first space mission in 2003, when astronaut Yang Liwei orbited for 21-and-a-half hours before his capsule landed by parachute. Officials say they plan to land an unmanned probe on the moon by 2010 and want to send up a space station.
China doesn't take part in the US-led International Space Station, due largely to Washington's reluctance to deal with a space program that is a prestige project for a communist dictatorship.
Comments will be moderated. Keep comments relevant to the article. Remarks containing abusive and obscene language, personal attacks of any kind or promotion will be removed and the user banned. Final decision will be at the discretion of the Taipei Times.