Death toll nears 40,000 in Pakistan
STILL RISING Heavy rain slowed relief flights into quake-hit areas, where survivors said tents were badly needed because of the worsening conditions
The death toll in Pakistan's devastating earthquake rose to nearly 40,000 yesterday, while rain, snow and frigidly cold weather compounded the misery of millions of homeless victims and grounded some relief flights a week after the disaster.
Heavy rain began falling early yesterday in many quake-hit towns and snow fell in the surrounding mountains, disrupting efforts to help an estimated 2 million people lacking shelter ahead of the harsh Himalayan winter. Downpours earlier in the week had grounded helicopters and stopped trucks loaded with relief supplies.
Helicopter relief flights -- which have been ferrying supplies into the quake zone and ferrying out the injured -- were halted for about an hour and a half yesterday morning before being resumed, except to the northern town of Balakot where the weather was particularly bad. That left hundreds of injured, cold and terrified people waiting by the helipad, hoping for the weather to clear.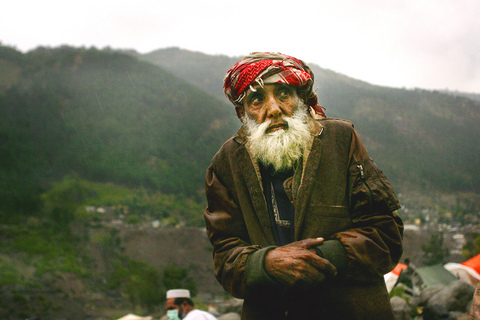 An earthquake survivor shivers in the rain as he waits outside a Pakistani army aid distribution site hoping in vain for a tent or a blanket in Balakot, Pakistan, yesterday. The death toll in Pakistan from a massive quake last week neared 40,000 yesterday.
PHOTO: AP
Begging for Tents
In desperately short supply were what was needed most: tents.
"We have begged for tents from relief workers but they say there are no more," said Rehamatullah, a 70-year-old man who hiked to Balakot from a nearby village, looking for supplies. "We're very worried as our families are staying in the open."
Meanwhile, army spokesman Major General Shaukat Sultan said the death toll from the Oct. 8 quake had risen to 38,000 with 62,000 others injured. More than 1,350 other people have died in India.
The official toll previously stood at 25,000.
Prayers for the dead
At 8:51am, thousands of Muslims gathered at Islamabad's towering Faisal mosque for special prayers for the dead -- exactly a week after the temblor.
Prayer leader Qari Nauman Ahmad urged people to donate what they could to quake victims and seek God's forgiveness, saying continuing aftershocks were a sign that God was not happy.
Early yesterday, a magnitude-5 aftershock struck the quake-hit zone, but there were no immediate reports of damage or further injury. There have been more than 500 aftershocks over the past week.
Rescue workers abandoned the official search for survivors trapped in the rubble on Friday, though individual efforts continued, with an 18-month-old girl reportedly pulled out alive from the ruins of her home in the town of Balimang, in North-West Frontier Province.
More delays could be catastrophic. Seven days after the magnitude-7.6 quake, many outlying villages have still seen no aid.
UNICEF warned that thousands of children could die from cold, malnutrition and disease.
Jan Egeland, the UN undersecretary-general and emergency relief coordinator, said he feared bottlenecks of relief supplies.
"If we don't work together, we will become a disaster within a disaster," he said.
Comments will be moderated. Keep comments relevant to the article. Remarks containing abusive and obscene language, personal attacks of any kind or promotion will be removed and the user banned. Final decision will be at the discretion of the Taipei Times.