Party offices bombed ahead of Iraq vote
GRIM REMINDER The Iraqi Islamic Party's decision to back the constitution was welcomed with a roadside bomb from insurgents ahead of today's referendum
Insurgents determined to derail this weekend's historic referendum bombed an office of Iraq's largest Sunni Arab political party yesterday, police said, after the group dropped its opposition to the draft constitution.
No one was wounded by the roadside bomb outside the Iraqi Islamic Party office in Fadhal, a district of central Baghdad. But the rare attack against the group by Sunni-led insurgents appeared aimed at punishing it for deciding to end its "no" campaign against the referendum after lawmakers agreed on Wednesday night to several amendments to the constitution designed to win Sunni support in today's vote.
On Thursday, Iraqi Islamic Party banners urging a "no" vote had been removed from where they hung near monuments such as the capital's main Grand Imam mosque.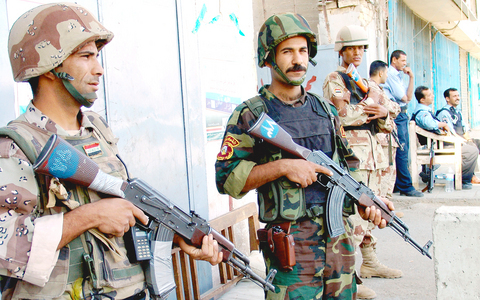 Iraqi soldiers secure an area in Baghdad yesterday. Iraqi officials have imposed tough security measures ahead of today's constitutional referendum, including a border lockdown and an extended, nationwide curfew.
PHOTO: AFP
"This attack by insurgents against the Islamic Party was expected because of its new stand toward the referendum," Iraqi army Major Salman Abdul Yahid said in an interview. "Insurgents had threatened to attack the group and its leaders in order to get revenge."
Many other Sunni Arab parties still oppose the charter. They fear it would divide Iraq into three separate districts: powerful mini-states of Kurds in the north and majority Shiites in the south, both capitalizing on Iraq's oil wealth. By contrast, many Sunnis fear, their minority would be left isolated in central and western Iraq with a weak central government in Baghdad.
On Wednesday night, the National Assembly endorsed last-minute changes to the draft constitution worked out by Shiite, Kurdish and Sunni powerbrokers that will allow a new parliament scheduled to be elected in December to adopts amendments to the constitution.
The draft constitution now being considered by voters is expected to pass today. It requires a majority, and it will be adopted unless two-thirds of voters in three provinces vote "no." Sunnis only have a majority in four of Iraq's 18 provinces.
Yesterday's roadside bomb attack against the Iraqi Islamic Party came as coalition forces closed Iraq's borders and its international airport in Baghdad in another effort to improve security to protect voters. On Thursday, a new 10pm to 6am curfew was imposed, and a four-day holiday started across the country, closing government offices and schools.
All civilian vehicles will be banned today as Iraqis are expected to walk by the thousands to 6,100 polling centers in Iraq.
The referendum is an important step in the Bush administration's efforts to one day withdraw the tens of thousands of US forces from Iraq after establishing a stable and democratic government that is strong enough to fight the country's deadly insurgent groups.
Coalition forces have warned of a spike in attacks by the militants ahead of today's vote, and nearly 450 people have died in violence over the past 19 days, often by insurgents using suicide car bombs, roadside bombs and drive-by shootings. Many other Iraqis have been kidnapped and killed, with their bodies abandoned in remote areas.
Hundreds of Iraqi police and army troops have fanned out across Baghdad, setting up checkpoints and fortifying polling stations with barbed wire and blast barriers.
An eerie calm has settled over Baghdad and other cities, with little traffic on the streets, few pedestrians and many shops closed.
In Shiite areas of Baghdad, hundreds of posters and banners urging a ``yes'' vote were plastered on many walls and shop windows. Iraq's top Shiite cleric, Grand Ayatollah Ali al-Sistani, has ordered his followers to approve the constitution.
But few such posters hung in mostly Sunni districts of the city.
Comments will be moderated. Keep comments relevant to the article. Remarks containing abusive and obscene language, personal attacks of any kind or promotion will be removed and the user banned. Final decision will be at the discretion of the Taipei Times.