Give up one-child policy: critics
OVERPOPULATION? Given China's rising prosperity and openness, the policy limiting families to having just one child is out of date, a US medical journal says
The Chinese, like people everywhere, gripe about weather, traffic, and other day-to-day irritants, but also they have a constant lament all their own: ren tai duo -- too many people.
Twenty-five years after China launched its ambitious and controversial policy limiting most families to only one child in hopes of alleviating the eternal problem of too many people on too little land, critics are urging Beijing to give it up.
A report published on Wednesday in the New England Journal of Medicine argues that China -- now more open and prosperous than it was in the late 1970s -- should relax the so-called one-child policy.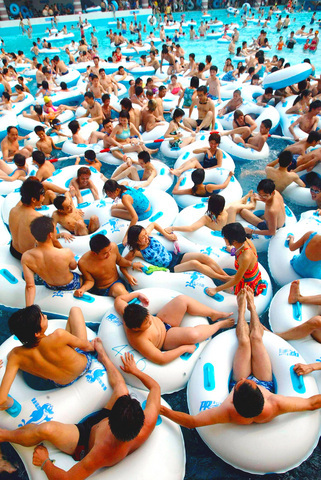 Young swimmers at a swimming pool in Guangzhou, in May. The family planning policy in place since 1978 has attempted to slow down China's massive overpopulation, which has already reached 1.3 billion people, but critics say it has also inadvertently raised the gender imbalance and swelled the aging population.
PHOTO: EPA
"With the freedoms that have resulted from wealth and globalization, the one-child policy seems increasingly anachronistic," it says. "A relaxation of the one-child policy would be desirable."
Critics say the policy has led to forced abortions, sterilizations and a dangerously imbalanced sex ratio due to a traditional preference for male heirs, which has prompted countless families to abort female fetuses in hopes of getting boys.
Sick female infants also tend to receive inadequate medical treatment, says the report titled, "The Effect of China's One-Child Family Policy After 25 Years."
The Chinese government contends that the one-child policy has helped prevent 300 million births -- about the size of the US population -- and aided China's recent, rapid economic development.
That progress makes the one-child policy out-of-date, the report says, citing surveys showing that growing affluence means many Chinese families, especially in big cities, now voluntarily opt for smaller families.
Hao Linna, an official with China's National Population and Family Planning Commission, said in an interview that the analysis in the report was "fine." But she said the government was not ready yet to make major changes in a policy it believes has worked well for almost three decades.
"I don't think that [the family planning policy] is unchangeable, but as to when and how, we have to do some more research on it," Hao said. "It's a very big decision."
China has already begun stressing economic incentives and education in hopes of getting families to voluntarily comply with limits. It also has relaxed limits for some couples, particularly those who both are single children.
Last year, the government began giving 1,200 yuan (US$148) annual pensions to older couples with a daughter as a reward for complying with the policy and as an incentive to others to have just one girl baby, Hao said.
Still, pressure from central and provincial leaders to meet population targets encourages local officials to take extreme measures when enforcing the one-child policy, critics say.
Li Juan, a 24-year-old peanut farmer from Shandong Province, says she was nine months pregnant when officials took her to the Feixian Hospital on Feb. 27 and pushed a syringe full of an unknown substance into her uterus. It killed her baby and forced a miscarriage.
Li already has a son, born in 2003. Officials told her that the second pregnancy, a baby girl, violated family planning limits.
Following foreign media coverage of Li's case and several similar ones in Shandong, central government officials went to Shandong earlier this week and interviewed Li's family about the alleged abuses, promising to investigate further, she said.
"Our child was killed," Li said. "I want fairness."
A campaign of forced sterilizations and abortions in Li's area started after county-level officials were criticized by provincial heads in July last year for failing to reach population control targets, according to Chen Guangcheng, who is a Shandong-based activist.
The report in the New England Journal did not address the issue of forced abortions but said that overall abortion rates in China were "relatively low" because of high contraceptive rates, with some 87 percent of married women using birth control.
It says 25 percent of Chinese women of reproductive age have had at least one abortion, compared to 43 percent in the US.
Hao, the family planning official, acknowledged worries that the gender imbalance resulting from sex-selective abortions and other practices could have dangerous social consequences due to anticipated shortages of marriageable young women.
Government statistics show that 117 boys are born in China for every 100 girls, well above the average for industrialized countries of between 103 and 107 boys for every 100 girls.
Comments will be moderated. Keep comments relevant to the article. Remarks containing abusive and obscene language, personal attacks of any kind or promotion will be removed and the user banned. Final decision will be at the discretion of the Taipei Times.