Hong Kong's once ubiquitous tailors are becoming a rarity
DYING OUT Only 265 tailor shops remain, down from about 800 in the 1990s. But the territory is still a great place to buy a made-to-measure suit
Hong Kong was once home to thousands of tailors cutting and stitching up one of the great shopping pleasures: slipping on a jacket that settles perfectly over your shoulders and stepping into trousers that gently hug your waist and break exactly where you want them to.
But the number of tailor shops has been shrinking over the years due to many factors: the dress-down trend, sky-high rents, inexpensive off-the-rack clothing and a shortage of skilled labor.
Despite the decline, Hong Kong is still a great place to get a suit, though shoppers hoping to get both quality and cut-rate prices will likely be disappointed. Inexpensive suits can be found, but customers need to be alert for dodgy practices, like using fake designer fabric and farming out suits to sweatshops in China.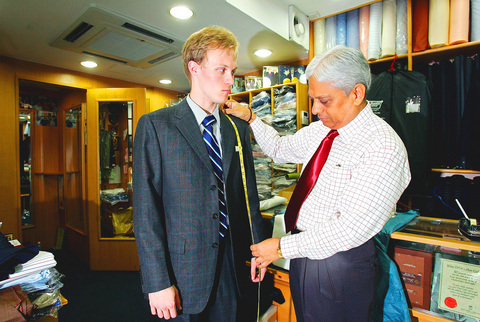 Manu Melwani, of Sam's Tailor, one of Hong Kong's most famous tailors, takes a customer's measurements at his shop in this photo from June. Hong Kong was once home to thousands of tailors, cutting and stitching up one of the great shopping pleasures. While the number of tailor shops has been shrinking over the years, they're still producing nice suits.
PHOTO: AP
Hong Kong owes much of its reputation for being a global capital of the bourgeois tailoring industry to an unlikely source: communism.
When Mao Zedong (毛澤東) and his scruffy guerrilla army took over China in 1949, many of China's best tailors fled to Hong Kong. They accurately predicted what China's style trend would be for the next few decades: the snappy pinstripe and tweed would be replaced by drab, baggy, blue cotton Mao suits.
Most of the tailors came from Shanghai, once a swanky, decadent bastion of capitalism that had close ties to the West and quickly absorbed foreign fashions, said Peter Lam, a manager at Jimmy Chen & Co, an upscale tailor shop in the ritzy Peninsula Hotel.
But Lam said that in recent years, many of the old Shanghai tailoring families have closed their shops because the younger generation doesn't want to get into the trade. He said his chain, owned by a Shanghainese, once had eight stores but now only has two because it's difficult to find skilled tailors.
"In the early 50s, a lot of tailors from Shanghai had big families, four to five children," said Lam, who sells suits for between HK$6,000 (US$771) and HK$20,000. "There was no compulsory education, so some of the younger children who didn't do well in school worked in the shop."
According to government figures, Hong Kong had 815 tailor shops that employed 2,954 people in 1991. By the end of last year, the number of shops dwindled to 265 with a work force six times smaller at 508.
The remaining tailors sew away on a business battlefield where two of Asia's most ancient and dominant cultures -- China and India -- slug it out.
The ethnic rivalry and mutual stereotyping can be intense.
The Chinese say the Indians don't respect the Shanghai traditions of quality. The Indians says the Chinese overprice their suits.
The Chinese scoff at the package deals offered by the Indians, whose stores dominate the cramped arcades in the touristy Tsimshatsui shopping district.
The Indian tailors employ hawkers who stand in the street passing out fliers. One advertises a package deal that includes a suit, one jacket, slacks, a shirt and two ties for HK$1,880.
The pudgy and talkative Lam looks at the flier and says, "These are the people who are ruining the image of Hong Kong tailors."
But down the block from the Peninsula Hotel, Indian tailor Andy Punjabi stresses what a good deal he's offering his customers.
"We make less profit per suit and sell more suits," said Punjabi, who sells suits for about US$250 in his cramped shop, a little larger than a walk-in closet.
Customers need to be alert to deals that seem too good to be true. Some tailors keep prices low by using cheap fabric. Last April, officials seized HK$15 million in fake, high-priced Italian fabric at a shop and storage center.
Some tailors are able to offer bargains by having their suits made in sweatshops across the border in China, where tailoring is still far behind Hong Kong, said Tommy Chow, a salesman at the Rave tailor shop in office building in Wanchai where suits go for between HK$2,880 and HK$3,400.
One of Hong Kong's most famous tailors is Manu Melwani of Sam's Tailor -- a shop founded by his father in 1957. The soft-spoken Melwani has dark rings about his eyes, and he's quick to offer customers a cold bottle of mineral water.
His shop on the bustling tourist shopping strip on Nathan Road is easy to miss. A simple square red-and-green neon sign advertises the store, down a dusty red marble walkway and next door to a shop selling opals.
Like most tailor shops, the walls are lined with bolts of fabric. Melwani's shop is special because its decorated with pictures of his clients, including former US president Bill Clinton, Prince Charles, Michael Jackson and Donald Trump.
A session with a tailor usually begins with a discussion about suit styles and fabrics. The best tailors have a wide selection of material, usually in books with sample swatches.
After measurements are taken, a suit can be made in a day for those in a hurry. But customers should have at least one fitting. You should try on the suit again when you pick it up, and tailors should be willing to make further modifications if you're not happy with the fit.
The final fit should be thoroughly enjoyable -- maybe a bit eerie -- as the jacket sleeves fit your arms perfectly and the shoulders drop into the place without shifting or tugging. This is the pleasure you're paying extra for, and it's not often in life that things arrive just the way you want them.
Comments will be moderated. Keep comments relevant to the article. Remarks containing abusive and obscene language, personal attacks of any kind or promotion will be removed and the user banned. Final decision will be at the discretion of the Taipei Times.