Rich, poor nations rally to help victims
War-torn Afghanistan, tsunami-struck Thailand and poverty-stricken, waterlogged Bangladesh were the latest Asian nations to offer aid and expertise to the US to deal with the Hurricane Katrina disaster.
While some of the aid pledges from Asia have been small compared to the millions of dollars and heavy machinery promised by Europe, they come from nations with far less to give and are symbolic recognition of the large role US aid has played in the development of the region in recent decades.
Bangladesh, one of the world's poorest countries, where millions of people live on a monsoon and flood-prone delta, pledged US$1 million to Hurricane Katrina's victims and offered to send specialist rescuers to inundated areas, the Foreign Ministry said.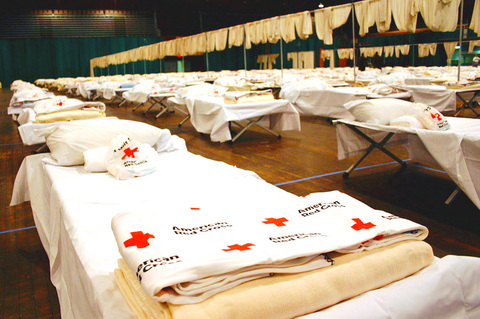 Beds are set up for the hundreds of Hurricane Katrina evacuees at the DC Armory in Washington, on Monday. From around the world, aid began pouring into the US for victims of Hurricane Katrina.
PHOTO: EPA
Prime Minister Khaleda Zia said the assistance from Bangladesh -- a major recipient of US economic development aid -- was "a token of goodwill and sympathy," spokesman Zahirul Haque said Monday.
Thailand's Foreign Minister Kantathi Suphamongkon said his Southeast Asian country would send 60 doctors and nurses and a shipment of rice for hurricane victims.
The assistance is a "gesture from the heart," Kantathi said. He said Thailand remembers the help it received from the US after last year's tsunami that left 228,000 dead or missing across 11 Indian Ocean countries, including more than 8,000 in Thailand.
Impoverished Afghanistan, which is still struggling to recover from two decades of war that ended when US-led forces ousted the Taliban regime in 2002, has pledged US$100,000 for Katrina victims, the government announced.
Neighboring Pakistan, a key US ally in the international fight against terrorism, has offered doctors and paramedics and Washington had "expressed their appreciation for the offer," Foreign Ministry spokesman Mohammed Naeem Khan said.
Some 2,700 Pakistanis and Pakistani-Americans were in the areas hit by Katrina, and the Pakistani Embassy in Washington is working with US authorities to provide them with help, Khan said.
More traditional, wealthier Asia-Pacific allies have also pledged help for the hurricane relief effort.
Yesterday, New Zealand promised US$1.4 million in aid and offered to send urban search and rescue specialists and a victim identification team to hurricane-hit states.
"The scale of this disaster is greater than we thought just a couple of days ago," Prime Minister Helen Clark said in a statement.
She said the US was always quick to help others in need and "this is a time for its friends, like New Zealand to show their support."
Singapore said it had sent a fourth military helicopter based in Texas to Louisiana to help the hurricane relief efforts.
Comments will be moderated. Keep comments relevant to the article. Remarks containing abusive and obscene language, personal attacks of any kind or promotion will be removed and the user banned. Final decision will be at the discretion of the Taipei Times.