Islamists protest talks with Israel
HARDLINERS Some Pakistani lawmakers walked out of parliament to protest their country's move to hold formal talks with Israel, after a meeting in Turkey
Hard-line Pakistani lawmakers walked out of parliament in protest and their supporters planned rallies at mosques across the country yesterday to condemn the first formal talks between Pakistan and Israel, which critics said were a step toward diplomatic recognition of the Jewish state.
"We urge the people to fully participate in today's rallies to tell the rulers that we will not allow them to recognize Israel," said Ameer ul-Azeem, spokesman for Mutahida Majlis-e-Amal (MMA), an opposition coalition of six Islamic parties.
He made his comments a day after Pakistani Foreign Minister Khursheed Kasuri met with his Israeli counterpart, Silvan Shalom, in Istanbul, Turkey.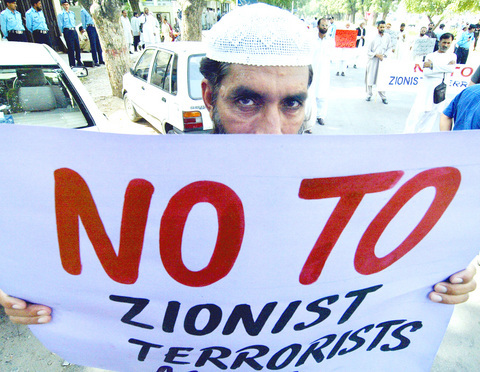 A Pakistani supporter of the six Islamic party alliance Muttahidda Majlis-e-Amal holds a placard during a demonstration in Islamabad, yesterday. Hardline religious parties in Pakistan were gearing up for a nationwide protest after noon prayers in protest at Islamabad's first diplomatic contact with Israel, accusing the government of being a US stooge.
PHOTO: AFP
Ul-Azeem also criticized Pakistani President General Pervez Musharraf for arranging Thursday's meeting without consulting parliament, and for planning to send a delegation to Jerusalem. Pakistan has not announced a date for the visit.
Lawmakers from the coalition staged a walkout of the lower house of the parliament to condemn the government for not consulting them before sending Kasuri to Turkey for talks with Israeli foreign minister.
"Only one individual [Musharraf] took this decision. We condemn it," said Hafiz Hussain Ahmed, deputy chief of MMA.
However, Prime Minister Shaukat Aziz said the decision to hold talks with Israel was based on a request from Palestinian leader Mahmoud Abbas. who wanted them to play a role in helping to resolve the Middle East crisis.
"Pakistan has not recognized Israel," he said, adding that "any such decision would be taken in supreme national interests after due consultation of the parliament."
The landmark meeting between representatives of Israel and Pakistan, a Muslim country that in the past has taken a harder line against Israel than some Arab countries, followed the removal of Jewish settlers from the Gaza Strip.
Despite the talks, Musharraf emphasized that his government had not granted Israel diplomatic recognition.
"Pakistan will not recognize Israel until the establishment of a free and independent state for the Palestinian people," he told reporters, adding that Thursday's meeting "does not mean that we have recognized Israel."
Musharraf has angered Pakistani opposition groups by calling for a debate on whether Pakistan should recognize the Jewish state, and has courted further criticism by agreeing to speak at a Jewish interfaith conference in New York later this month.
Pakistan officials have said there are no plans for Musharraf to meet with Israeli Prime Minister Ariel Sharon when they are in New York to attend the UN General Assembly meeting.
Yesterday, Israel said that talk of a possible meeting between Sharon and Musharraf was premature.
"We have to examine carefully how the issue is received by public opinion in Pakistan," Ron Prosor, director general of the Israeli Foreign Ministry, told Israel Army Radio.
Comments will be moderated. Keep comments relevant to the article. Remarks containing abusive and obscene language, personal attacks of any kind or promotion will be removed and the user banned. Final decision will be at the discretion of the Taipei Times.