Gory expat murder case captivates HK
MELODRAMA The territory has been agog over the trial of an American expat, now convicted of killing her banker husband
With its lurid revelations of sex, violence and greed within what had seemed a model Hong Kong expatriate family, the murder trial of American Nancy Kissel had all the ingredients of a paperback thriller.
The 41-year old mother-of-three was jailed for life Thursday when a jury found her guilty of murdering her banker husband Robert Kissel by bludgeoning him to death after drugging him with a laced milkshake.
Although murder trials are not uncommon in Hong Kong, they are rare within the foreign community, which is often seen as above the law.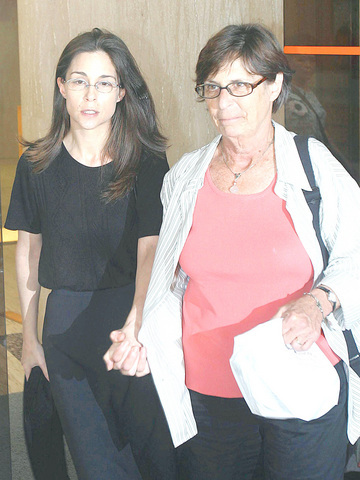 This file photo from Aug. 4 shows US citizen Nancy Kissel, left, leaving Hong Kong's High Court with her mother after another day of her murder trial. Kissel was found guilty of murder Thursday.
PHOTO: AFP
"Not since the murder of two students in the mid-1980s has there been an expat murder case that has so caught the public's attention," said Kate Whitehead, journalist and author of Hong Kong Murders, a history of the city's gruesome killings.
"Hong Kong's expat community is close-knit, and the world of a high-flying banker is even more guarded," Whitehead added.
By all reports, the Kissels lived a fairy-tale life. They and their three children, Reis, June and Elaine lived in one of the city's most exclusive apartment blocks, and he held down a high-flying job with investment bank Merrill Lynch.
A succession of friends testified to the couple's high regard within their community; him for the work he did and her because of voluntary work for their children's private school and her charity work within local Jewish organizations.
According to the deceased's father William Kissel, his son was a typical all-American male.
"He was an athlete, he was competitive, he loved his children," said the 77-year old outside the court.
It was because a family with such privilege could fall so low that made the case so riveting, said Sammy Chiu, head of the social work department at Hong Kong Baptist University.
"The gap between the rich and poor is so wide in Hong Kong. And although the rich are admired by the poor, they want to see them fall because they make them feel life is unequal," he said.
"Rich people give the general public a sense of mystery. The poor often feel they are unreachable. They are intrigued especially with their private life, so this type of voyeurism gives them satisfaction," he said.
Prosecutors had painted Kissel as a vengeful woman who stood to gain US$18 million in insurance payouts after her husband's death.
The defense said Kissel had been goaded by five years of abuse at the hands of an often violent and sexually deviant husband, who forced her into unnatural sex acts while under the influence of cocaine or drink.
She was frequently forced to endure violent anal sex, which had left her injured and in pain, the defense said.
Robert Kissel's murder made headlines as soon as police were called in to investigate after his body was found rolled into old carpets.
Adding to the sense of deadly decadence, early reports said he had been beaten with his golf clubs: golf is a sport that only the very rich can afford to play in Hong Kong.
When the case came to trial, however, newspapers lapped up the gory details of the banker's death: the bedroom where he was killed was splashed with blood and his head had been caved in with blows from a lead ornament.
So forceful were the blows that they shattered his skull and caused brain fluid to spill on the bed clothes.
Comments will be moderated. Keep comments relevant to the article. Remarks containing abusive and obscene language, personal attacks of any kind or promotion will be removed and the user banned. Final decision will be at the discretion of the Taipei Times.