Dozens die in a wave of bomb attacks in Baghdad
`HOSTILE ACTION' A series of attacks include a suicide bomber who targeted a US convoy; separately, 11 US soldiers were charged with assaulting terrorist suspects
A roadside bomb yesterday killed three British soldiers and wounded two others, British officials said, a day after dozens died in a wave of attacks in Baghdad. Also, the US command announced charges against 11 US soldiers for assaulting detainees.
The attack against the British, who have suffered far fewer casualties than the larger American force, occurred about 2:30am in the city of Amarah in Maysan province, 290km southeast of Baghdad.
"We can confirm that three soldiers from South Force Maysan have died from injuries sustained in hostile action in the early hours of [yesterday] morning," a British spokesman said on customary condition of anonymity.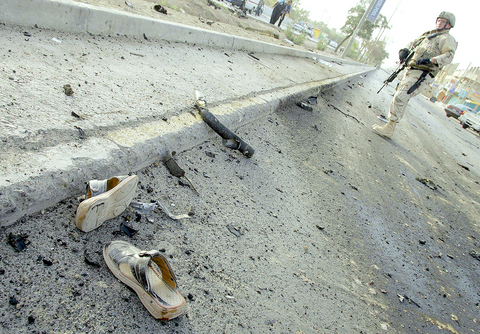 Slippers lie on a street as a US soldier secures the scene where a suicide bomber blew himself up against a US convoy in Baghdad on Friday. At least 28 people died and more than 100 were wounded, including seven US soldiers, as 12 suicide bombers blew themselves up in separate attacks in Baghdad and northern Iraq. Three British soldiers have died from injuries sustained as a result, the Ministry of Defence in London said.
PHOTO: AFP
Iraqi police said a British patrol was hit by a roadside bomb in the Risaala neighborhood of central Amarah.
In London, a Ministry of Defense spokesman said injuries to the two wounded soldiers were not life-threatening. The deaths bring the total number of British personnel who have died in Iraq as a result of combat, accident or natural causes to 92.
As of Friday, at least 1,763 members of the US military have died since the beginning of the Iraq war in March 2003, according to an AP count. At least 1,357 died as a result of hostile action. The figures include five military civilians.
In Baghdad, a suicide car bomber struck yesterday near a US military convoy in the southeast of the city, setting a Humvee ablaze, police Lieutenant Colonel Hassan Salloub said. There were no reports of US casualties.
3 Britons killed
Britain's force is largely based in the mostly Shiite southern Iraq, where support for the Shiite-led government in Baghdad is stronger. Last November, three British soldiers were killed in a suicide vehicle bombing in south-central Iraq, where they were reinforcing US troops during the siege of the Sunni insurgent stronghold of Fallujah.
In a statement yesterday, the US military said the charges against the 11 troops, who were not identified, were filed Wednesday following a complaint by another soldier that "other soldiers had allegedly assaulted some suspected terrorists."
"None of the insurgents required medical treatment for injuries related to the alleged assault," the statement added. "Only one of the suspected terrorists remains in custody of coalition forces at this time."
The statement said the soldiers were assigned to the Army's Task Force Baghdad but gave no further details.
Assault inquiry
The statement said the Army's Criminal Investigation Division had begun an investigation, which will determine whether the troops will face trial by court martial.
"Allegations of illegal activities will always be thoroughly investigated," said Lieutenant Colonel Clifford Kent, a Task Force Baghdad spokesman. "The unit involved has been pulled off line to complete the inquiry and retraining."
US commanders have been especially sensitive to alleged mistreatment of detainees since the abuse of inmates at Abu Ghraib prison triggered a major scandal involving America's handling of prisoners both here and in Guantanamo Bay, Cuba.
US and Iraqi forces have stepped up operations since May 28 against insurgents in the Baghdad area and have reported a sharp reduction in suicide car bombings in the capital.
However, a wave of suicide car bombs and explosions rocked wide areas of the capital Friday, targeting US and Iraqi security forces far into the night. At least 33 people, including the suicide bombers, were killed and at least 111 people, including seven American soldiers, were wounded.
One of the suicide bombings occurred after sundown on a bridge over the Tigris River near the home of President Jalal Talabani. Four security guards were killed and nine people were wounded in that attack. Talabani was at home at the time, aides said, but the target may have been a US convoy.
Comments will be moderated. Keep comments relevant to the article. Remarks containing abusive and obscene language, personal attacks of any kind or promotion will be removed and the user banned. Final decision will be at the discretion of the Taipei Times.