Anti-corruption campaign starts to retreat
TOO DAMAGING Analysts said the country's leaders appear to be applying the brakes in a bid to salvage the party's image from further damage and protect allies
When Chinese President Hu Jintao (胡錦濤) came to power in 2003 he vowed to crackdown on corruption. Since then an anti-graft campaign has seen 13 ministry-level officials jailed, sentenced to death or placed under investigation, and thousands more underlings arrested.
The crackdown on the highest leaders in the provinces of Heilongjiang, Anhui, Guizhou, Hebei and Liaoning has revealed nests of crooked officials that have worked together to enrich themselves and their families.
To satisfy their greed, they have used elaborate bribery and rent-seeking schemes and the widespread confiscation of land.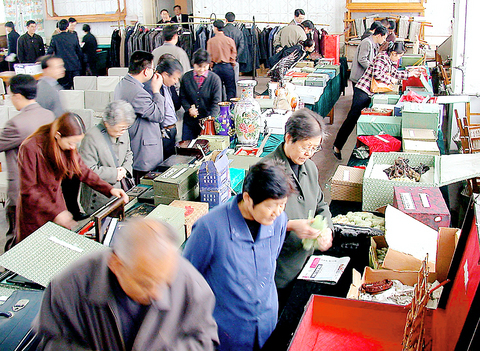 People browse through items seized from corrupt officials in Hefei, Anhui Province, prior to an auction to sell the items, in this file photo from July 26, last year
PHOTO: AFP
According to state press reports, graft in Heilongjiang lay in the buying and selling of official positions, while in Hebei the construction industry was particularly crooked. In Liaoning, bribery in the judiciary was rampant, while illegal land sales and bank fraud have been prevalent everywhere.
At last count three of the top 13 have been sentenced to death, while two received life terms in a murky judicial process where the details of many of the cases remain tightly controlled. Other jail sentences meted out include terms of 12 and nine years, while a few are still awaiting trial.
"The scale of corruption grows as fast as the Chinese economy does," said Cheng Li, from the New York-based Hamilton College who has written extensively on Chinese politicians.
"If one does not deal with prevalent corruption in China, the Chinese state will not survive for long," he said.
"If one does want to deal with corruption seriously, the Chinese Communist Party could not survive for long," he said, citing recent comments made by one senior official.
Despite the shocking revelations of graft, it appears that Hu and Premier Wen Jiabao (溫家寶) are putting the brakes on the crackdown to save the party's image from further damage and ensure that at least some of the vested interests of the ruling elite are protected, analysts say.
What has most irked ordinary Chinese is that a lot of the leaders that ran corrupt governments at lower-levels somehow got promotions to higher posts before investigators caught up with them.
Tian Fengshan (田鳳山), appointed to the powerful post of minister of land resources in 2000, is now under investigation for corruption when he was the the top leader in Heilongjiang, a province of 38 million people, for much of the 1990s.
The investigation has brought down nearly the entire Heilongjiang government, including a vice governor, a provincial high court president, its top prosecutor, a vice head of its legislature and 10 mayors or vice mayors. According to press reports more than 260 officials are under investigation. The case is so sensitive that the trials have been moved to Beijing, where Ma De, former top official in Heilongjiang's Suihua city was charged in March with accepting 6 million yuan (US$726,000) in bribes.
Then there is the case of Wang Huaizhong (王懷忠), who was appointed vice governor of Anhui province in 1999 and was sentenced to death and executed last year for crimes he committed as a top official in Anhui's Fuyang prefecture for much of the 1990s.
Over 200 other Fuyang officials were implicated in the case. Wang was found to have controlled the local courts and police as he and his underlings extorted bribes and confiscated land with abandon.
He was convicted of accepting 5.17 million yuan in bribes and was unable to account for another 4.8 million yuan in assets, state press reports said.
"Corruption is basically a problem of the system, so the more people they investigate, the more corruption they will find," said Mo Shaoping, a prominent Beijing lawyer who often defends victims of official corruption.
Signs of resistance include Shanghai being left largely unscathed despite widespread reports of rampant irregularities in the banking and property sectors.
Meanwhile, the nation's parliament last week refused to mandate an expected declaration of assets clause in the new Civil Servants Law, said Joseph Cheng (鄭宇碩), a China analyst at the City University of Hong Kong.
Comments will be moderated. Keep comments relevant to the article. Remarks containing abusive and obscene language, personal attacks of any kind or promotion will be removed and the user banned. Final decision will be at the discretion of the Taipei Times.