German runs across Australia for tsunami relief effort
`WUNDERBAR' Athlete Achim Heukemes' 43-day race across Australia will be able to provide thousands of tsunami victims in Banda Aceh with fresh water and housing
A German athlete yesterday completed a 43-day run from western to eastern Australia, braving sunstroke in the desert and wearing out six pairs of shoes to set a new record and raise funds for tsunami victims.
Ultra-marathon athlete Achim Heukemes, 53, left Fremantle just south of Perth on the west coast on April 2. He covered the 4,658km in 43 days, 13 hours and eight minutes, averaging some 105km a day.
"Wunderbar!" he shouted as he crossed the finish line on Sydney Harbor foreshore, waving a German and an Australian flag.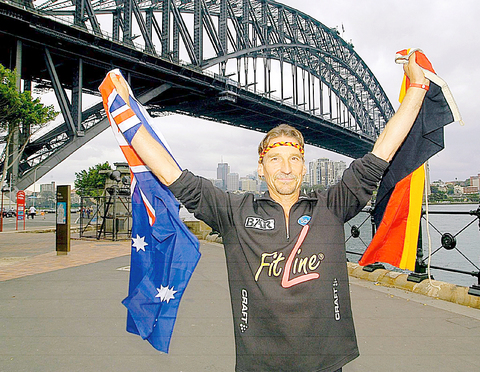 German ultra-marathon runner Achim Heukemes holds up the Australian and German flags in front of the Sydney Harbor Bridge yesterday, after completing his record-breaking run across Australia.
PHOTO: EPA
Heukemes, who has previously crossed the European continent, described the Nullarbor Plain as both the high and low point of his epic journey.
"The Nullarbor was the highlight, the animals, the nature and because it was so tough," he said, speaking through his manager Franz Brandmueller.
"[But] because the sun over here has got a very strong burning effect I lost all the skin on the back of my legs ... and there were a couple of days where I was very delirious because of the heat," he said.
At one point when crossing the desert, one of his ankles was so affected by fluid retention that he could not stand on it, Heukemes said.
"But I still ran."
Heukemes broke the previous record of 47 days set by Frenchman Serge Girard in 1999. His run was part of the Oxfam charity's tsunami appeal, raising money through the sale of Run For Life wristbands over the Internet.
"I wanted to show that I'm prepared to suffer for 43 days myself in relation to the tsunami victims and also to raise awareness," Heukemes told reporters. "I wanted to set an example in regards to humanity. When you see somebody suffering you should help those people out on your own behalf."
Oxfam Australia spokeswoman Caroline Thomas estimated that the run raised funds to provide thousands of people in Indonesia's Aceh province with fresh water and housing.
"The tsunami appeal has attracted amazing amounts of generosity from many people but not many have run all the way from Perth," she said. The Run For Life fundraising campaign will continue until the end of the year.
An estimated 217,000 people were killed in the December 26 tsunami disaster which hit 11 Indian Ocean countries. Indonesia's Aceh province was worst hit.
Heukemes said he would spend the next six weeks "sleeping and relaxing" before heading to Dusseldorf to defend his 24-hour/six-day run title. That covers a mere 822km.
Comments will be moderated. Keep comments relevant to the article. Remarks containing abusive and obscene language, personal attacks of any kind or promotion will be removed and the user banned. Final decision will be at the discretion of the Taipei Times.