War mars beauty of the `Garden of God'
Baghdad, whose name means the "Garden of God," has fallen from grace. Known for centuries as one of the most beautiful cities in the world, its landscape has been marred by concrete blast walls, barbed wire, steel barricades, sandbags and crumbling buildings pockmarked by bullet holes or gutted by explosions.
"We used to be under sanctions and the economic conditions were dire, but never was the city so ugly. Between the chopped trees and the burned houses, it's a total mess," said 61-year-old Fadhila Dawoud, a teacher who used to take her students on picnics along the banks of the Tigris. Now they hold picnics in the school courtyard.
Once dubbed the "City of Peace," Baghdad was founded in the eighth century by Caliph Abu Jafar al-Mansur as the capital for his rising Muslim Abbasid empire. The city soon became the heart of medieval Muslim civilization -- a mecca of arts, culture and architecture.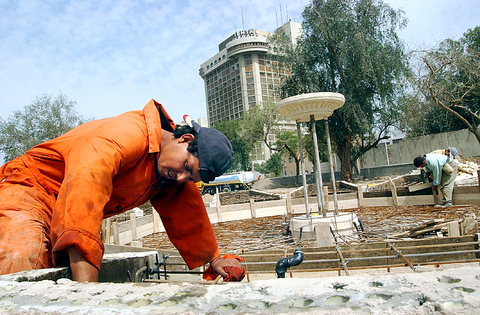 Municipal workers tend to a beautification project near the Tigris River in Baghdad, Iraq on Wednesday.
PHOTO: AP
After the US-led invasion in March 2003, the city of 5 million became one large military barricade: Humvees and tanks roaming the streets, helicopters rattling above, checkpoints and soldiers everywhere.
Beautiful date palm groves that lined the 16km-long airport road had to be removed to prevent gunmen from hiding in what has become one of the city's most dangerous battlefields.
Mayor Alaa al-Tamimi has made it his mission to bring back the city's former glory. After taking office last year, al-Tamimi "relentlessly nagged" coalition officials to remove the security barriers and open the numerous blocked roads, his spokesman, Amir al-Hassoun said.
The city also has many beautification and reconstruction plans awaiting funding. But al-Hassoun said the interim Iraqi government has given the city just US$85 million of the US$1 billion it requested -- enough to begin tackling major infrastructure problems only.
Coalition troops have taken steps toward rectifying the damage.
Last year, before the handover of sovereignty to the interim Iraqi government, the Coalition Provisional Authority announced the "Baghdad Beautiful" project, allocating US$10 million for beautification projects. The plans included creating parks, erecting sculptures, landscaping and repairing sidewalks.
Comments will be moderated. Keep comments relevant to the article. Remarks containing abusive and obscene language, personal attacks of any kind or promotion will be removed and the user banned. Final decision will be at the discretion of the Taipei Times.