`Idol' finds fame has complications
HUNTED Abhijeet Sawant wanted to work for a bank before an audition propelled him to the top of the celebrity tree; now he's beating women away with a stick
Less than a fortnight after being crowned the first Indian Idol, 23-year-old Abhijeet Sawant is a hunted man -- scores of parents are chasing after him with proposals to marry their daughters.
"My family is having a tough time controlling parents who have just kept pouring in with marriage proposals since the day I became the Indian Idol," Sawant said.
The boyish-looking Sawant, an amateur singer with a local Mumbai orchestra, was chosen as the first Indian Idol in a competition modeled on the popular American Idol format.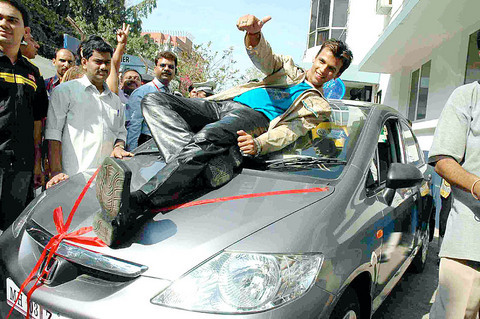 Indian singer Abhijeet Sawant poses for photographers in Mumbai, India, on March 5 as he celebrates his win in the country's first ''Indian Idol'' contest.
PHOTO: AFP
Sawant used to sing Bollywood songs in musical shows during religious festivals and at wedding ceremonies, where he was recognized as talented but not exceptional.
But his moment of glory came at the end of a five-month countrywide search for a singing star organized by Sony Entertainment Television.
In the final round, some 48 million viewers watched Sawant, the son of a Mumbai civic officer, beat off competition from 21-year-old Amit Sana, who hails from the eastern industrial city of Bhillai where his father is a steel worker. It is one of three most-watched television shows in India this year.
Sawant was voted favorite by television audiences who sent in their vote through mobile text messages. Over 30 million text messages were sent in the run-up to the final.
Life has changed dramatically for Sawant, who says he misses his common, boy-next-door life with his parents and younger sister in the city's Dharavi slums -- his sudden fame has forced him to go into hiding.
"Though I am staying near my home in the city, I am not disclosing the place where I go to sleep at night," Sawant said. "People just want to see me and meet me. It has become impossible to live there. I have not even been able to meet my friends after my victory."
He moves around Mumbai with two bodyguards who are with him round-the-clock.
"The problem is that if I stand in one place for more than five minutes, people start recognizing me and chasing me," he said. "It has become difficult for me to lead a life of a commoner."
For six months during the contest he was out of contact with his family, in accordance with the rules of the show.
When he returned after winning the contest to his one-bedroomed home in a government building in central Dharavi, he was treated like a long-lost prodigal.
Sawant's home has now become a landmark for anyone entering Dharavi. Not that Sawant is complaining.
"Life was never so good. I believe that I am still dreaming. I always wanted to be a singer but I still cannot digest the fact that I have become the nation's heartthrob overnight," he said.
The star, who was never good academically, had a tough time convincing his family of his talent.
"Singing was always my passion, but no one took me seriously as I was not good in studies," he said. "In fact I was considering becoming a sound recordist or getting a job in a bank to pacify my parents. But thank God ... Indian Idol happened and life will never be the same for me."
Comments will be moderated. Keep comments relevant to the article. Remarks containing abusive and obscene language, personal attacks of any kind or promotion will be removed and the user banned. Final decision will be at the discretion of the Taipei Times.