Canada opens the door for foreign gays to tie the knot
`LIVING IN SIN' Canada is drawing more foreign gay couples wanting to get married, and who plan to test the boundaries of their country's law upon their return
To the cheers of mazeltov and the flutter of rose petals, four gay Israeli couples took their wedding vows in Canada on Friday, saying they hoped to break down marriage barriers in their nation and open doors for others to have their unions recognized.
Etai Pinkas, 31, a member of the Tel Aviv city council, and his boyfriend of five years, 32-year-old Yoav Arad, said they know when they go back home they will have to fight to get their marriage registered. Pinkas said he is prepared to go the Israeli Supreme Court, if necessary.
"We've been living in, quote `sin,' for five-and-a-half years and nothing is really going to change in our day-to-day lives," Arad, the manager of a real estate company in Tel Aviv, said of the marriage ceremony, where they exchanged gold rings crafted by his mother. "But I personally don't feel that the state should be allowed to permit, or not permit, our partnership."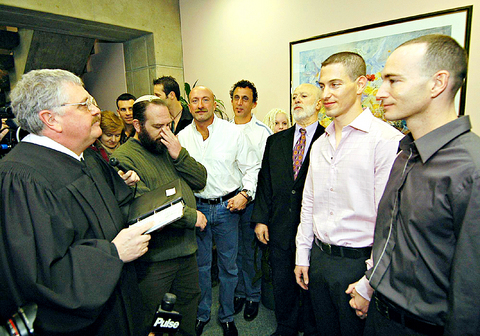 Etai Pinkas, 31, right, a Tel Aviv city councillor, stands with his partner Yoav Arad, 32 at their civil wedding at City Hall in Toronto, Canada Friday, with George McConnachie, left, officiating, and Tel Aviv Rabbi David Lazar, second from left, providing a Hebrew blessing. Four Israeli couples got married in a civil ceremony that could have major repercussions back home.
PHOTO: AP
They came to Toronto, the capital of Ontario, because the province is one of seven in Canada that allows marriage among same-sex couples. The Canadian Parliament is debating legislation that would legalize gay marriage nationwide.
The Netherlands and Belgium currently are the only countries that permit couples of the same sex to wed, though one member of the couple must be a citizen of that nation. Several other countries allow some form of civil unions, but they generally don't oblige the state to grant the same rights and protections as men and women have under traditional marriages.
The four couples, surrounded by friends and family, were welcomed at Toronto City Hall by a justice who asked the men to repeat traditional vows -- using the word "spouse" where there might have been "wife" -- exchange rings and kiss after being pronounced officially married.
In Israel, the Orthodox rabbinate has exclusive control of Jewish marriages. That means non-Orthodox rabbis are not allowed to perform marriage ceremonies, an increasingly unpopular law among Israelis which leads to many couples going overseas to marry in civil ceremonies. Orthodox rabbis consider homosexuality sinful and refuse to condone same-sex marriages.
Rabbi David Lazar of the Tiferet Shalom synagogue in Tel Aviv, traveled with the men as a witness and to offer prayers in Hebrew after each couple said their vows.
"You will do a ceremony with me in Tel Aviv, under the chupah one day," Lazar told one couple after they were pronounced married, referring to the traditional canopy of Jewish weddings. "We'll make sure that others continue to come here until we change the system."
Lazar said even in his conservative synagogue, most Israelis believe that gays and lesbians should be allowed to wed. Under international norms, Israel should recognize a Canadian marriage license.
However, a spokesman for the Israeli Interior Ministry, Sabin Hadad, said Israeli law does not recognize same-sex marriages, no matter where they occur. "The moment it does, we will register them," he said.
Jacob Galanti, a Justice Ministry spokesman, said that while Israel does not permit gay unions, "it does recognize the social and economic rights of the partners."
Not entirely, according to Russell Lord and Ari Ozeri, another of the four couples to wed at Toronto City Hall. The two men, both 47, have been together for 23 years.
Ozeri said he worked for one of the largest banks in Israel for 21 years, yet his pension would not go to Lord should he die before his partner.
"He's not allowed to get a penny and that's just not fair," said Ozeri, who now works in the hotel industry in Tel Aviv.
"I don't need City Hall or any priest or rabbi to tell me what we have together," said Lord, a tour operator. "But it's just not fair that we pay our taxes and do our military service like every other responsible citizen, but we don't have any rights."
The couples were being followed for several days by Out TV, a Canadian cable network devoted to gay lifestyles. The show, "I Now Pronounce You ...," which focuses on gay weddings in Canada and the US, will be hosted by Canadian comedian Trevor Boris and will air in August.
Comments will be moderated. Keep comments relevant to the article. Remarks containing abusive and obscene language, personal attacks of any kind or promotion will be removed and the user banned. Final decision will be at the discretion of the Taipei Times.