Some Guantanamo prisoners `ignored'
`ENEMY COMBATANTS Donald Rumsfeld claims that some countries are `largely ignoring' taking custody of the prisoners the US has been detaining without charge
Defense Secretary Donald Rumsfeld is pressing the US State Department to increase pressure on some unresponsive foreign capitals to take custody of some of their nationals who are held at the US prison at Guantanamo Bay, Cuba, a senior defense official said Friday.
The military has transferred 65 prisoners from Guantanamo to their home countries, but some countries -- which officials did not identify -- have largely ignored American requests for transfers, officials said. The senior official described Rumsfeld's effort, first reported Friday in The New York Times, on condition of anonymity.
State Department Spokesman Richard Boucher said the department is working with the Pentagon to identify detainees who "no longer need to be held" and work with other governments to ensure a "smooth transfer."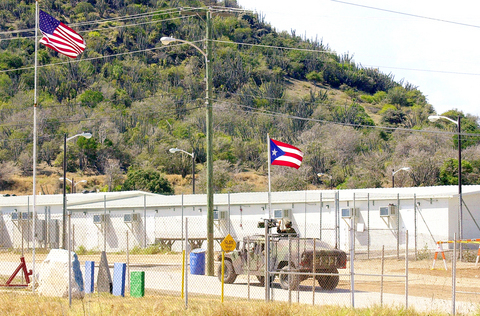 A photo showing a military Humvee patrolling the perimeter of Camp America in Guantanamo Bay Naval Base, Cuba.
PHOTO: AP
About 540 people from 40 countries are held at Guantanamo Bay, many of them prisoners from the US-led war in Afghanistan after the Sept. 11, 2001, attacks.
Already, the military has released more than 200 detainees from Guantanamo, including more than 140 who were freed outright.
Of the 65 detainees transferred for further detention or prosecution, 29 have gone to Pakistan, nine to the United Kingdom, seven to Russia, six to France, five to Morocco, four to Saudi Arabia and one each to five other countries.
In making these transfers, the US government sets conditions, such as requiring that the detainee be held by their home country, and, in some cases, seeking protections regarding their treatment while in prison there.
Boucher said that the department has a policy to ``not transfer a person to a country if we determine that it is more likely than not'' that the prisoner will be tortured.
Not all detainees at Guantanamo are eligible for transfer, officials said. Some, if freed, would remain a threat to US interests, and several already freed from Guantanamo have returned to terrorist groups, officials said.
Some are also still supplying useful intelligence to interrogators, officials said.
The status of the detainees at Guantanamo has been in question since the US military began holding detainees there in 2002.
US courts, over the objections of the Bush administration, have ruled that the detainees may challenge their incarcerations before a judge.
The government has argued that the detainees are "enemy combatants" -- a classification that includes anyone who supported Afghanistan's ousted Taliban regime or al-Qaida terrorist network -- and are not entitled to the same legal protections as prisoners of war under the Geneva Conventions, nor are they entitled to protections provided to other foreigners held on US soil.
Still, the military has instituted several review procedures at Guantanamo to examine whether each detainee is still properly held. Some detainees have been ordered freed under these procedures.
Comments will be moderated. Keep comments relevant to the article. Remarks containing abusive and obscene language, personal attacks of any kind or promotion will be removed and the user banned. Final decision will be at the discretion of the Taipei Times.