Central African Republicans head to the polls
CHANCE FOR PEACE Voters hope for security and stability as they head to the polls in the African nation's first presidential election in over a decade
Can military strongmen bring lasting democracy to an impoverished Central African country long blighted by coups, army mutinies and decades of corrupt rule?
That's the question voters in Central African Republic are considering as they head to the polls today for the first presidential elections since rebels seized the capital two years ago and installed their headman as leader.
The former army officer turned insurgent who now presides over the country, General Francois Bozize, is making good on promises to arrange elections and is considered a front-runner in a field of 11.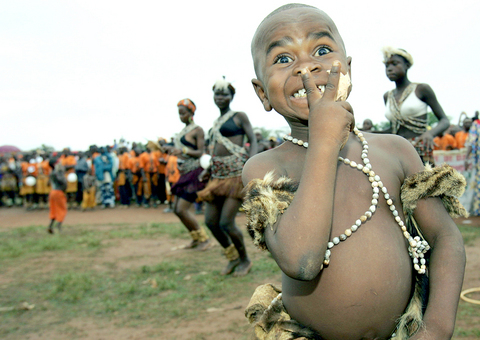 A child makes the victory sign during a campaign meeting of Central Africa's President Francois Bozize, Friday, in Bangui. Voters go to the polls in Central African Republic today hoping that the winner out of 11 presidential candidates will finally be able to bring peace and stability to their battered country.
PHOTO: AFP
Some citizens say a ballot cast for Bozize -- whose campaign slogan is "Bozize, the man for peace" -- is a vote to continue the limited stability he has brought to the country. But others say democracy can't flourish under the gun.
"We are tired of military rulers in this country. Bozize should stay away," said Jean Gambo, a 40-year-old mechanic in the capital, Bangui.
"He should not use this vote to legitimize his seizure of power," he said.
Others, however, think that peace and stability can only be preserved by men of military stock in a country has weathered ten coups or attempted rebellions since independence from France in 1960.
"There will be no real democracy without peace and security in the country ... the only person who can bring peace is a soldier," said Joel Goze, a 33-year-old teacher, who plans to vote for Bozize.
Politics in Central African Republic, population 3.6 million, is a clubby affair.
Bozize's fighters took Bangui in March 2003 as ex-President Ange-Felix Patasse traveled overseas. Patasse first gained power in elections in 1993 from former 12-year strongman Andre Kolingba, who took power in a coup and jailed Bozize -- a move which helped prompt Bozize to take up arms against the Bangui-based government.
Kolingba returned to the country in recent months and is now considered Bozize's main rival in the race in the field of 11. Patasse, living in exile, has been barred from competing.
Central African Republic's next leader faces a deeply impoverished country. Inflation and unemployment have soared -- more than 40 percent are jobless in the capital.
After years of fighting, security is a main issue in the campaign. When Bozize seized the capital, ending his armed campaign, a tenuous calm took hold in the countryside. Some say the best way to keep the peace is to legitimize Bozize's rule by the ballot.
Citizens are also hopeful that Central African Republic's can end decades of corruption.
Many of Central African Republic's leaders have been accused of corrupt rule, although perhaps none so blatantly as alleged cannibal Jean-Bedel Bokassa, who emptied state coffers in 1977 to buy a golden throne for a ceremony in which he crowned himself the country's emperor.
Central African Republic's 1.8 million voters hope to shed that past today, when they head to 4,500 polling stations nationwide. Results aren't expected for at least 10 days after the election.
Comments will be moderated. Keep comments relevant to the article. Remarks containing abusive and obscene language, personal attacks of any kind or promotion will be removed and the user banned. Final decision will be at the discretion of the Taipei Times.