Khmer Rouge victims want trial
Survivors of a notorious Khmer Rouge death camp said yesterday that they are praying for their former torturer, who is now ill, because they want him to live long enough to face trial along with other leaders of the genocidal regime. \nFormer Khmer Rouge leader Kaing Khek Iev is being treated at a Phnom Penh military hospital for a urinary track problem. \nAlso known as Duch, he ran the notorious S-21 prison, where up to 16,000 men, women and children were tortured and taken away to be executed. Only 14 people are thought to have survived the prison. \nOne of the survivors, 63-year-old Bou Meng, said he has burned incense at night and "prayed for [Kaing Khek Iev] not to die because he is very important living evidence." \n"I pray for him to stay alive. As a survivor I want to see him brought to a court so we can confront each other," he said. \nThe Khmer Rouge ruled Cambodia from 1975 to 1979, and its radical communist policies led to the death of more than 1.7 million people from starvation, disease, overwork and execution. \nCambodia and the UN have been discussing an internationally assisted tribunal to try surviving Khmer Rouge leaders since 1997, and the two sides are currently trying to raise the funds for the trial. \nAs the process drags on, victims fear that the perpetrators will die of old age before going to trial. \nKaing Khek Iev is one of only two senior Khmer Rouge figures in detention awaiting trial. \nPol Pot, the movement's chief, died in 1998, but several of his top lieutenants, aging and infirm, still live freely in Cambodia. \nSecurity has been tight at the hospital where Kaing Khek Iev is being treated, according to his lawyer, Kar Savuth. \nIt remains unclear if he is to undergo surgery.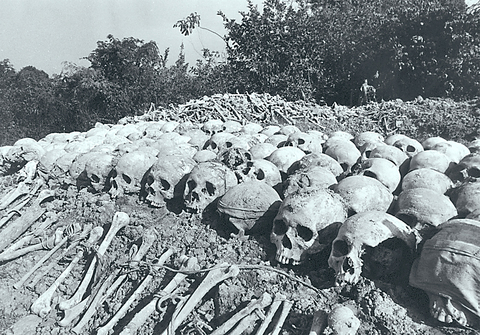 Skulls are seen in Phnom Penh in this 1981 file photo. The authorities say the victims were tied together by rope -- seen in this photograph -- before being executed by followers of Premier Pol Pot, who was ousted from power in early 1979.
PHOTO: AP
Comments will be moderated. Keep comments relevant to the article. Remarks containing abusive and obscene language, personal attacks of any kind or promotion will be removed and the user banned. Final decision will be at the discretion of the Taipei Times.