Blizzard kills 14 in Northeast US
A howling blizzard slammed the US Northeast with more than 0.61m of snow and hurricane-strength wind gusts, halting air travel for thousands of people, keeping others off slippery highways and burying parked cars under deep drifts. \nGovernors in Massachusetts, New Jersey and Rhode Island declared states of emergency. \nOver 90cm fell in some places north of Boston, parts of New Hampshire got 60cm, New York's Catskills collected at least 51cm and 46cm fell on parts of Connecticut, New Jersey, Rhode Island and the eastern tip of New York's Long Island. \nTwo communities in Massachusetts, Salem and Plymouth, tied for the deepest snow with 96.5cm each, according to the National Weather Service. \nThe weather system had earlier piled 30cm of snow across parts of Wisconsin, Michigan, Indiana and northern Ohio. \nAlthough the snow ended by Sunday afternoon, temperatures were expected to reach -17.8C in some areas Sunday night, with wind chills dropping as low as -26C. The wind was fierce across much of the East Coast, with a top wind gust of 244.6kph recorded on Grandfather Mountain in North Carolina. \nAt least 14 deaths were linked to the weather: three in Connecticut, three in Ohio, three in Wisconsin, two in Pennsylvania, and one each in Maryland, Iowa and Massachusetts. \nWind gusted to 135kph on Nantucket, and the entire island off the southeast coast of Massachusetts was plunged into darkness Sunday as 9,400 utility customers lost power. On the mainland, some 18,000 customers lost power, the utility NStar said. Smaller outages were reported elsewhere around the northeast. \nElise DelBarone, a spokeswoman for Massachusetts Electric, said power on Nantucket was nearly restored Sunday afternoon when a problem with the undersea cable connecting the island to the mainland was fixed. \nStill, officials said up to 100 residents were staying at a shelter set up at a high school. Rescue crews were also trying to reach people at risk in outlying areas cut off by snow drifts up to 1.8m high. \nBecause the wind blowing off the ocean coincided with a full moon and high tide, coastal communities were warned of flooding. \nState and city officials urged residents to stay off the roads. \nYesterday classes were called off for many Massachusetts schools, and Romney asked nonessential state workers in the eastern part of the state not to come to work. \nFor others, towering snowdrifts and whiteout conditions wiped out travel plans. \nBoston's Logan International Airport closed early Sunday because snowplow crews couldn't keep up with the blinding snow. \n"It's more likely we'll open tomorrow morning," said Phil Orlandella, a spokesman for the airport that normally has 900 flights on a Sunday. \nMore than 900 flights were canceled Sunday morning at the New York metropolitan area's Newark, Kennedy and LaGuardia airports, in addition to about 700 that were grounded Saturday, Port Authority officials said.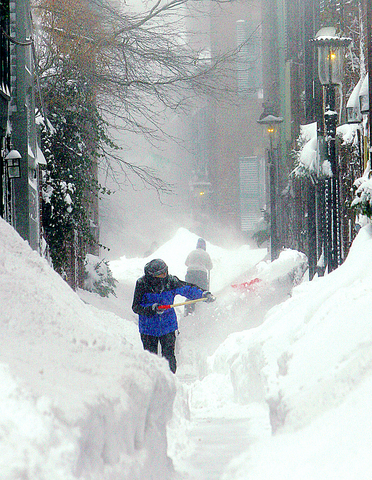 Residents dig out as a blizzard dumps nearly a meter of snow in the area Sunday in Boston. Whiteout conditions grounded airplanes and sent fleets of plow and salt trucks trundling through snow-clogged roadways before the storm began to ebb at midday.
PHOTO: AP
Comments will be moderated. Keep comments relevant to the article. Remarks containing abusive and obscene language, personal attacks of any kind or promotion will be removed and the user banned. Final decision will be at the discretion of the Taipei Times.