Boy with flare likely cause of disco fire
WIDESPREAD ANGER Witnesses say they saw a small child fire a flare during a concert at a Buenos Aires disco, which investigators say is the likely cause of the deadly inferno
A small boy may have fired the flare that set off the Argentina nightclub inferno for which the toll rose to 183 on Monday after an 11-year-old girl died. \nAmidst widespread anger over safety standards, a sound engineer at the disco in Buenos Aires told prosecutors he saw a boy, on the shoulders of his father, fire a flare during the rock concert on Thursday night, Clarin newspaper reported. \nSenior prosecutor Jose Manuel Sansone believes this is the most likely cause of the disaster, a legal source told the newspaper. \nThe ceiling of the Republica Cromagnon caught fire and the 2,000 people at the concert by the rock group Los Callejeros were unable to escape as safety exits were locked with chains. \nOn top of the mounting death toll, about 882 people were injured, 117 of them in serious condition. The girl who died on Monday was among three people in a critical state in hospital. \nMany parents took their children to the concert, where a special creche had been set up. There were many children among the dead, including a 10-month-old baby boy. \nMore funerals for the victims were held on Monday. About 90 of the dead were buried on Sunday in two Buenos Aires cemeteries amid rising anger over action taken by the city government to control nightclub safety. \n"Death is always painful, but when it is young people and there are so many, it hits us even more," said Father Jose Maria Balina at a funeral for one young victim. \nOfficials said the club had a permit for just over 1,000 patrons, but the night of the fire more than 2,000 people were packed inside. \nOmar Chaban, one of the owners of the nightclub, has been in detention in a secret place since the fire and was to be officially questioned by a prosecutor on Monday and Tuesday. Some of his partners are on the run. \nChaban has been charged with negligence and could face a jail term of 20 years if brought to trial and found guilty. \nHundreds of people staged a march through Buenos Aires on Sunday demanding the resignation of mayor Anibal Ibarra. Banging pots and pans, the protesters converged on city hall, chanting "Killer!" and "Ibarra must go!" \nAnother demonstration was planned for Monday. \nA city safety chief, Juan Carlos Lopez, resigned on Sunday and Fabiana Fiszbin, head of the city's 230 safety inspectors, followed on Monday. \nAll discotheques in the city have been ordered closed for two weeks to allow special checks. \nIn the face of accusations that he failed to enforce safety regulations, the mayor said he is the target of a political campaign. \nIbarra said Chaban had also modified the club after the firefighters certified the site met fire safety standards. Chaban used soundproofing material that was not fire resistant, Ibarra said.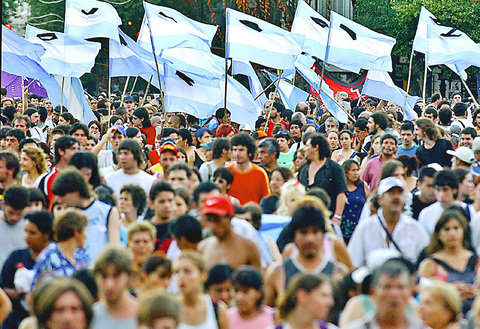 Argentinian flags with black ribbons are carried by relatives and friends of Republica de Cromagnon night club victims on Monday 3 January 2005 through Buenos Aires.
PHOTO: EPA
Comments will be moderated. Keep comments relevant to the article. Remarks containing abusive and obscene language, personal attacks of any kind or promotion will be removed and the user banned. Final decision will be at the discretion of the Taipei Times.