All eyes on ASEAN after destruction
BE WARNED Western officials will attend an ASEAN summit this week and will likely discuss the establishment of a tsunami warning system
An ambitious plan to set up an Indian Ocean tsunami warning system is expected to dominate an upcoming gathering of leaders from stricken nations and world donors seeking to prevent a repeat of last week's carnage. \nAsian leaders including Japanese Prime Minister Junichiro Koizumi -- whose nation's US$500 million pledge makes it the biggest contributor so far -- are to attend Thursday's summit, along with US Secretary of State Colin Powell, UN Secretary-General Kofi Annan and top EU officials. \nFlorida Governor Jeb Bush, the US president's brother, and World Bank President James Wolfensohn also will attend the summit in Jakarta, being organized by the 10-country ASEAN in the wake of the Dec. 26 disaster. \n"Indonesia and other neighboring countries plan to set up an early warning to prevent natural disasters, including earthquake and tsunamis," Indonesian President Susilo Bambang Yudhoyono said Monday. His country suffered more than 90,000 of the estimated 150,000 deaths from the earthquake and killer waves. \nGovernments and global organizations have already pledged US$2 billion in disaster relief, according to the UN. With aid and relief workers pouring into devastated nations, the focus of Thursday's summit will be on rebuilding communities and ensuring that coastal communities will be warned the next time an earthquake unleashes tsunamis. \nA current tsunami warning system links 26 Pacific Ocean nations. If it had been expanded to the Indian Ocean coastal countries, the National Oceanic and Atmospheric Administration might have been able to warn them, the agency's chief, Conrad C. Lautenbacher, said last week. \nAmong the 11 nations affected by the Dec. 26 earthquake and tsunami, only Indonesia received any warning from NOAA, and then only indirectly through Australia. \nThailand is pushing hard for the system, which it believes will offer peace of mind to the millions of foreign tourists its economy depends on. Thai Foreign Minister Surakiart Sathirathai suggested that a part of the money pledged to the relief effort from around the world should go to setting up a warning system. \n"One of the topics Thailand would like to emphasize is how countries in the area and countries that have been affected can work together to set up a mechanism for an early warning system and monitoring system," Surakiart said. \n"As a famous tourist resort of the world, we will have to increase the awareness of the tourists and also the security of the tourists," he said. \nPhilippine President Gloria Macapagal Arroyo said her country, which was spared by the disaster but was still recovering from recent deadly storms and typhoons, will declare Friday a national day of prayer and mourning for the tsunami victims. \nShe said the regional summit and donors' conference "is urgent and significant not only to step up the international humanitarian response to the multinational disaster, but to enhance regional disaster preparedness through a consolidated information sharing and early warning system." \nThe Philippines operates its own early warning system, but Arroyo said it needs to be updated and linked to similar systems in Hawaii, Japan and China.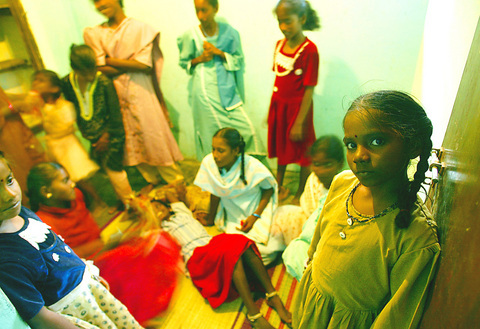 Siva Rangini, right, stands near the entrance to a room where she would stay along with other children at a newly opened orphanage for those affected by tsunami at Sikkal, near Nagapattinam, in the southern Indian state of Tamil Nadu, Monday. The Tamil Nadu state government opened the center, for children left parentless in the worst-hit area of India. India's official death toll from the Dec. 26 tsunami, which battered a dozen nations from Asia to Africa, stands at more than 9,000.
PHOTO: AP
Comments will be moderated. Keep comments relevant to the article. Remarks containing abusive and obscene language, personal attacks of any kind or promotion will be removed and the user banned. Final decision will be at the discretion of the Taipei Times.