Death toll rises in Buenos Aires fire
NIGHTCLUB TRAGEDY Families gathered at morgues to try to identify the dead, while protesters marched in a rally, demanding the city impose tougher safety codes
Anguished families struggled to identify bodies and plan funerals for relatives killed in a Buenos Aires nightclub fire, as the toll rose to 186 dead and more than 700 injured. \nInvestigators believe the fire started when someone set off a flare that ignited the foam ceiling, and that the victims had trouble evacuating because the emergency exits were reportedly locked and the building was overcrowded. \nThe club's owner, Omar Chaban, was being held by authorities pending an investigation into Thursday's inferno. \nPolice said there were also looking for three business partners of Chaban's who have not contacted investigators since the fire. \nAuthorities on Saturday raised the death toll to 186 from 174 after new deaths were reported. About 100 people remained in critical care in city hospitals. \nSeveral hundred people later Saturday marched near the Cromagnon Republic nightclub, calling on city officials to toughen safety codes for concert halls and rock clubs. \n"We have to ensure this never happens again," said Jorge Viegas Mendes, whose 18-year-old son, Cristian, died in the blaze. \nAbout 4,000 people, most teenagers, were inside the club for a concert by Argentine rock band Los Callejeros when the fire broke out. The building has a capacity for only 1,500 people, city officials said. \nThe fire triggered a stampede for the exits as the concert hall filled with choking black smoke. Survivors told of people struggling to force open emergency exits, which authorities said were either tied shut or padlocked to prevent people from entering without paying. Many of the victims died from smoke inhalation, city officials said. \nDozens of families gathered at the city's morgues to identify the bodies of relatives while volunteer psychologists circulated among the crowd hoping to console relatives. \nSome were still searching for lost loved ones, and frantically scanned lists of the injured, disappeared, and dead posted near the morgue. \nOne woman, Paula Espindolam, said she had not been able to find her 30-year-old cousin two days after the blaze. \n"She's on the list of the disappeared, but we don't know if she's dead or injured. I've searched the hospitals, everywhere, but haven't been able to find her," she said. \nOfficials said more than a dozen people believed to have been inside the nightclub remain unaccounted for and Argentine media published lists with descriptions of the missing -- many of them teenagers -- with details of clothing, tattoos, and hair and eye color in an effort to help locate them. \nAt least 72 victims have been identified, officials said, but the process was being slowed since many of the dead were teenagers who had not been carrying identification. \nAt the site of the club in a working-class Buenos Aires neighborhood, Argentines left candles, flowers and a small group held hands and bowed their heads in prayer to remember the victims. \nInvestigators said they had identified three people believed to have launched the flare that ignited the fire, but were trying to determine if they could be among the dead. \nPolice said they were also investigating survivor accounts that a bathroom inside the nightclub had been used as a makeshift nursery, where parents left their kids during the show.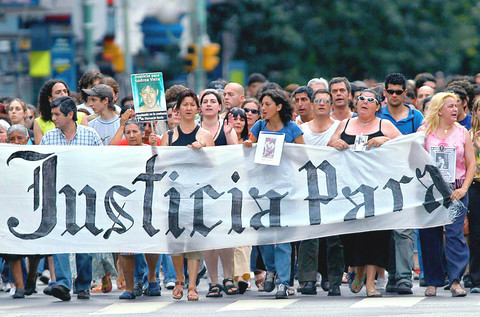 Relatives and friends of the victims of a fire at a nightclub last Thursday march in a rally along Corrientes Avenue in Buenos Aires, Argentina on Saturday. At least 184 people were killed and 714 injured when a fire erupted in the crowded nightclub 'Republica de Cromagnon' in downtown Buenos Aires, police said. Local media reported as many as 6,000 people may have been inside the club listening to a band called 'Callejeros.'
PHOTO: EPA
Comments will be moderated. Keep comments relevant to the article. Remarks containing abusive and obscene language, personal attacks of any kind or promotion will be removed and the user banned. Final decision will be at the discretion of the Taipei Times.