Stench of death fills air around Thai resort
FADING HOPES As loved ones of those missing in Phuket kept on searching, Thai authorities said it was impossible to visually identify bloated corpses
At night the white boards outside the Phuket town hall are illuminated by arc lights so relatives can go about their forlorn work even in the small hours. \nThe boards are covered in photographs, grainy pictures, phone numbers, descriptions and pleas for help. There are missing couples getting married, entire families, all now lost, tanned and happy on the beaches where they died, laughing children, gap-toothed babies, solemn businessmen, a local kickboxer winning a fight, rows of smiling fishermen, posing proudly for a rare photograph. They are in English, French, Portuguese, Chinese, Thai and two dozen other languages. Written below one picture is a simple statement: "Please help. I love this woman." \nNearby notices announce that "30 metal coffins from Belgium are available for repatriation" and offer telephone numbers in Bangkok for information on the dozen "children who have lost both parents" currently being looked after at a university in the capital. \nVolunteers guide relatives to the computers where Web sites carrying the names of the dead can be searched. And in the corners of the town hall's gardens, sitting on benches, on rickety chairs, or simply leaning into each other, are the bereaved, those who hope, and those who know there is no hope left. \nThe pictures are of the missing. Currently, there are more than 6,500 people who are unaccounted for -- almost all are likely to be have been killed when the tidal wave hit western Thailand at around 10:25am local time last Sunday. When the waters receded from the shoreline many bodies were dragged out to sea. On Friday rescue workers collected another 300 from the beaches. \nAnd the pictures are of the dead. Three boards display appalling images of bloated corpses -- men, women and children barely distinguishable, their features hideously distorted. \nNearby Sophie Clay, 24, was looking for friends and colleagues. A dive instructor, she had been in the sea off Koh Phi Phi, the island made famous by Alex Garland's novel, The Beach, when the wave struck. \n"It was like being in a washing machine. When we got back to the island everything was gone," she said. "I lost a lot of people I know." \nAt least newly arriving relatives will be spared the harrowing sight of the open-air morgues behind Khao Lat. Many had been stripped by the force of the water and their corpses had swollen hugely in the heat. Those that had floated as rigor mortis set in had adopted a distinctive posture -- their arms held out in a rigid half embrace. Others raised single, waxy hands.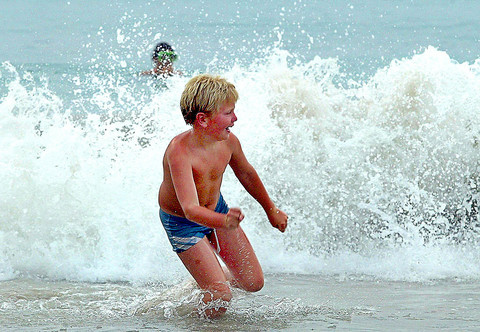 A foreign boy plays with a wave on a beach of Phuket, in southern Thailand, yesterday. The final death toll from Thailand's tsunami disaster is likely to be 7,000 to 8,000 and the terrible task of collecting the dead is far from over, Prime Minister Thaksin Shinawatra said.
PHOTO: AFP
Comments will be moderated. Keep comments relevant to the article. Remarks containing abusive and obscene language, personal attacks of any kind or promotion will be removed and the user banned. Final decision will be at the discretion of the Taipei Times.