Survivors tell their tales
ORAL HISTORY Feats of endurance along with heroic determination and unspeakable loss -- not to mention some amazing luck -- characterized tsunami experiences
NAGAPPATTINAM, India \nFisherman G.M. Veerappan and three of his children survived the tsunami by clinging to the remnants of his demolished home: a pole stuck in the ground. \n"My eldest daughter climbed on my back. I took the younger two in my arms and climbed onto the lone pole that remained after our house was destroyed," he said. \nAs the water roared around him, Veerappan clung on desperately. But the fierce waves pounded against him, pummeling him with debris. \n"There was no proper grip and I was slipping. After one hour, I lost all strength and dropped the two younger kids. I cried and cried, thinking I had killed my children," he said, shuddering at the memory. \nAfter a few hours, rescuers reached Veerappan, and pulled the father and his 6-year-old daughter to safety as the waters began to recede. \nWhen Veerappan came ashore, rescuers told him they had also found his two younger sons, ages 4 and 2. Unconscious and barely breathing, they had been discovered at the water's edge, half buried under sludge. \nThe family, now reunited, is staying at a makeshift shelter at a marriage hall. His wife and two other children were safe at a relative's home. \n"Nobody can explain how my children survived," he said. "I am still wondering why God chose to save my children when he chose to let so many other children die." \nPORT BLAIR, India \nAt 80 and with a career in the British colonial army and India's military behind him, Sheetla Prasad thought he was through with marches. \nThen on Sunday, as Prasad was having tea with his wife, his tea cup began shaking -- and the Asian tsunami sent him on a backbreaking trek for survival in India's remote Campbell Bay islands. \n"It was like the old days, in the army -- but my body was not the same. I thought I would die," said Prasad, a frail man with thick white stubble. \nWhen he saw the sea roaring toward him, he shouted at his wife, two daughters-in-law, and three grandchildren to run uphill. He grabbed a machete and a few precious possessions and followed them up. \nWithin minutes, the waves had flattened his home, and he faced a stark choice: Die there with his family, or lead them through mountains covered in thick, dark foliage. \n"I used my machete. I started hacking the bushes. I didn't even look back to see if my house was there or gone," he said at a relief camp in Port Blair, the territory's capital, his family at his side. \nFor two nights, the family took shelter in the huts of farm workers. On the third day, they dragged themselves through the forest, walking more than 10 miles with blistered feet. \nThey stopped only to have fruit plucked from trees, coconuts and water from natural sources. \nOn the third evening, they reached the docking site of a relief ship. \nPENANG, Malaysia \nWhen the waves hit, the baby girl's parents were flushed out of the restaurant they owned on the beach of this northwest Malaysian resort. \nSuppiah Tulasi, not yet a month old, had been taking a nap when the calamity struck. She was found hours later floating on a mattress inside the restaurant. \n"We know this was a real miracle, thanks to God," said her mother, Annal Mary. "So many other children who died, but our baby was OK. She could have been swept out to the sea." \nMary and her husband found Tulasi when they swam back into the wrecked restaurant. \nThe parents, who have lived by the sea their entire lives, said they have no plans to move. \nBANDA ACEH, Indonesia \nAfter the waves swept him up, 10-year-old Ardiyansah found himself on top of a tree. \nHis tale of survival is also one of heartbreak. \n"The last thing I saw was my mother drowning while crying out my name, and I didn't even see my little sister," said the boy, who had bruises on his knees but was otherwise uninjured. \nArdiyansah spent two hours in the tree waiting for water to recede. A man arrived and helped him down. \nThe boy then started searching for his father, staying at the houses of strangers. After three days, they found each other. \nThe father said the boy had a vision of his mother after her death and couldn't sleep until a Kpran was put under his pillow. \nArdiyansah comes from Lampu Daya village, the most populated housing area in Banda Aceh. Only about 20 percent of the people in the neighborhood survived. Of the boy's 60 schoolmates, only four are still alive. \nPHUKET, Thailand \nWhen the raging waters subsided, 7-year-old Karl Nilsson thought he had been transported to another city. And when he looked around, the parents and two brothers who had been with him moments before had vanished. \nNow Kalle, as everyone calls him, is being cared for by another Swedish family. His parents and two brothers were among the more than 1,500 people killed when the tsunami lashed this resort. \n"All night, when he heard the noise of a truck or car, Kalle woke up and asked me, `Is it another wave coming?"' said Marie Guldstrand, a Swedish doctor who has been taking care of Kalle since she and her family found him in a Buddhist temple where survivors had sought shelter. \nKalle, wearing only underwear, was suffering from a broken collar bone, bruises and cuts. He screamed as a medical worker stitched cuts on his feet without an anesthetic. \nWhen the tsunami struck, Kalle was in a hotel room with his two brothers -- Olof, 5, and Vilgot, 3. His parents, Thomas and Asa, were outdoors. \nSuddenly a torrent of water surged into the room. \n"He told me, `I was under the water but somehow I could breathe. I was just closing my eyes and moving with the waves. Then, suddenly the flood ended and I was in another city,'" Guldstrand said. \nHe wandered around by himself and was eventually helped by some Thais and a Swedish couple who took him to the temple. \nCOLOMBO, Sri Lanka \nFisherman Sini Mohammed Sarfudeen clung to his capsized boat for three days after the tsunami struck. He was rescued when the crew of a Sri Lankan air force helicopter spotted him at sea. \nThe aircraft had been on a mission to drop food to 300 people cut off by floodwaters when its crew noticed him hanging onto his boat off Kalmunai, 200km east of the capital, Colombo. \n"He told us that since Sunday he had been floating in the sea," Group Capt. Ajantha De Silva said. "His condition was bad." \nSarfudeen was taken to the hospital in Kalmunai, where many people flocked to the beach to watch the rescue. \n"It was good to see that the man had the will to live, and this is what saved him," said Dr. Fazlul Rahman. \nMALE, Maldives \nMike Rigg, a construction worker from Liverpool in Britain, was surfing off the resort of Lohifushi in the Maldives when the tsunami hit. \n"Suddenly there was a 2m-high surge in the waves and a very powerful current started rushing along the island," said Rigg, 33. "I was dragged along with it but I managed to stay out of the middle of the current. I thought the main thing was fighting to stay out of the middle." \nRigg was carried along for about 50m before he found the water had become shallow enough for him to stand, and he battled his way to shore. \nHe said the incident happened too quickly for him to be frightened. \n"In a situation like that you just concentrate on doing what you have to do to get out of it," he said.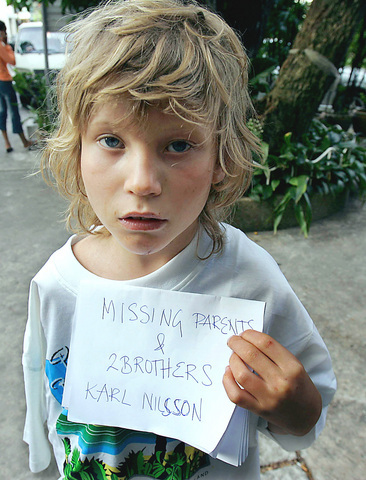 Karl Nilsson of Sweden displays a hand written sign asking for help in finding his family last Tuesday, in Phuket, Thailand.
PHOTO: AP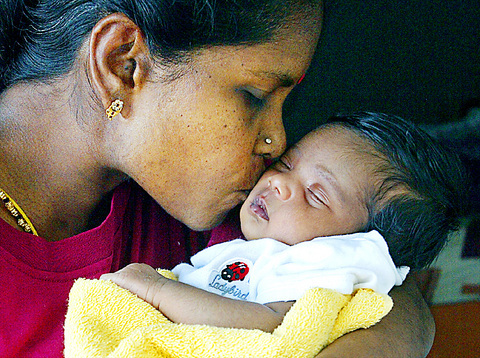 Annal Mary kisses her 20-day-old baby Suppiah Tulasi, who survived the tsunami, at her restaurant in Penang resort island, northwestern Malaysia, Wednesday.
PHOTO: AP
Comments will be moderated. Keep comments relevant to the article. Remarks containing abusive and obscene language, personal attacks of any kind or promotion will be removed and the user banned. Final decision will be at the discretion of the Taipei Times.