US soldier sentenced in slaying of Iraqi fighter
MERCY KILLING? A US soldier plead guilty to murder for shooting a severely wounded iraqi teenager, but investigators say he may have acted out of compassion
A US soldier pleaded guilty and was sentenced to three years in prison Friday for killing a severely wounded Iraqi teenager in what investigators say may have been a mercy killing, the latest of several similar incidents that have undercut American efforts to win support among Iraqis and defeat a rampant insurgency. \nThe conviction and sentencing of Staff Sergeant Johnny Horne, 30, comes almost a month after the Nov. 13 killing of another wounded Iraqi found lying in a Fallujah mosque among the bodies of several people killed during a weeklong operation to retake that city from insurgents. \nHorne was sentenced to three years in prison late Friday by a jury-like panel of seven service members, the military said Saturday. He also received a reduction in rank to private, forfeiture of wages and a dishonorable discharge. \nHorne is the first of four soldiers from Company C, 1st Battalion, 41st Infantry Regiment, to face court-martial on charges of murdering Iraqis during fighting in Baghdad's impoverished Sadr City in August. \nThis week in Germany, a US tank company commander was ordered court-martialed after being accused of shooting and killing a critically injured Iraqi driver for radical Shiite cleric Moqtada al-Sadr on May 21 near Kufa, 160km south of Baghdad. \nAs in Horne's case, witnesses have said Captain Rogelio Maynulet, 29, shot the wounded man out of compassion. Maynulet will be tried on charges of assault with intent to commit murder and dereliction of duty, which carry a maximum combined sentence of 20 years. \nThe US military has defended its record, saying out of the more than 400,000 soldiers who have deployed to Iraq since the war began, only a few illegal killings have come to light. \nLieutenant Colonel Steve Boylan, a spokesman with the military command in Baghdad, said soldiers understand the rules of engagement and go through extensive training. \n"The US military is a cross-section of the US society, where we have the complete spectrum of best possible people that you could imagine, but unfortunately we have those at the other end who commit crimes and they are held accountable," he said. \nElsewhere, the military on Saturday said insurgents used the hospital in the volatile city of Ramadi to ambush US soldiers on Friday, firing rocket propelled grenades and small arms fire but inflicting no American casualties. \nAlso, Iraqi police detained 30 people after a police station in Baquba, north of Baghdad, was attacked, the US military said Saturday. \nThe military tribunal heard witness testimony that troops fired on a group of Iraqi men placing homemade bombs along a road in Sadr City. Other soldiers arrived to find a burning truck and casualties around it. \nWitnesses said the soldiers, including Horne, tried to rescue the teenager from inside the vehicle, but decided he was beyond help because of severe burns and abdominal wounds. A criminal investigator said the soldiers decided "the best course of action was to put [the victim] out of his misery." \nMeanwhile, the US command said two soldiers died Thursday and four were injured when an AH-64 Apache helicopter crashed into a UH-60 Black Hawk chopper that was on the ground at an airfield in the northern city of Mosul. A US Marine was also killed in action in volatile Anbar province west of Baghdad.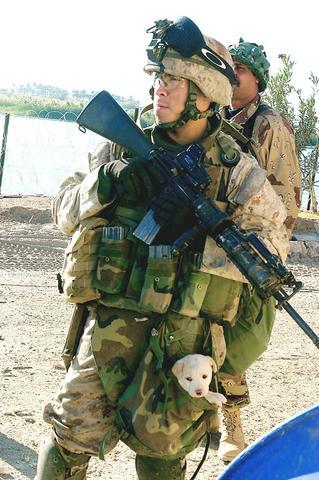 A handout photo of US Corporal David Venegas, 3rd Squad Leader from 5th Marine Regiment, 1st Marine Division, shows him carrying a puppy he saved from a pile of rubble while on patrol in the Jolan district of Fallujah, Iraq, Friday.
PHOTO: EPA
Comments will be moderated. Keep comments relevant to the article. Remarks containing abusive and obscene language, personal attacks of any kind or promotion will be removed and the user banned. Final decision will be at the discretion of the Taipei Times.