Iraqis urged not to boycott elections
INSURGENCY WOES Bush and Middle Eastern leaders are trying to persuade Iraqis to support next month's polls as the US increases its troops in response to the violence
US President George W. Bush met with Iraq's interim president at the White House to persuade Iraqi minority groups to participate in next month's election -- a pivotal step toward a democracy still threatened by a violent insurgency. \nBush met yesterday with Iraqi interim President Ghazi al-Yawer, an influential leader in Sunni Muslim regions of Iraq where the fiercest battles against insurgents have been waged. \nBoth men wanted the Jan. 30 election held on time, but other Sunni leaders want it to be postponed, saying the ongoing violence in these areas would keep people from voting. \nAl-Yawer's visit to the White House is a way to persuade Iraq's political minorities not to boycott the ballot. \n"I don't know how many Sunnis are going to be open to the message, but in Middle Eastern terms, it's very symbolic to invite somebody into your house from a community you've been fighting with," said James Phillips, a specialist on Iraq and the Middle East at the Heritage Foundation, a conservative Washington think tank. \n"It shows an openness to some kind of political settlement. It's trying to encourage them [the Sunnis] to include themselves in the power structure -- and therefore help weaken the insurgency," he said. \nThe Sunnis, who represent just one-fifth of the Iraqi population, wielded the power under former president Saddam Hussein. They fear the election will give Shiite Muslims, with 60 percent of the population, an overpowering grip on the nation. US and Iraqi officials worry that a Sunni boycott could undermine the legitimacy of a new government. \nFollowing his session with al-Yawer, Bush met with Jordan's King Abdullah II and, following that, with Senegal's President Abdoulaye Wade. The agenda likely includes discussion of efforts to restart peace negotiations between the Israelis and Palestinians as well as the Iraqi election. To bolster security ahead of the voting, the US announced last week it was increasing its military force in Iraq to the highest level of the war, including the initial invasion in March last year. \nThe 12,000-troop increase is to last only until March, but it says much about the strength and resiliency of the insurgency that US military planners failed to foresee when Saddam was toppled in April last year. \nThe 135 American troops who died supporting US-led operations in Iraq last month matches April of this year for the deadliest month since fighting began in March last year. Last week, al-Yawer told reporters in Baghdad that the security situation in some areas of Iraq remained "very bad." \n"There are areas where no one has been able to give out even one voter registration sheet," said al-Yawer. \nOn Sunday, however, al-Yawer told NBC television's Meet the Press that delaying the election would only "prolong the agony for Iraqis" and "bring a tactical victory to the insurgents." \n"We still have two months to elections," he said, adding that he believes most Iraqis are committed to a democratic future. \nAl-Yawer said.Iraq was not nearing a civil war, and suggested that US troops will need to stay in Iraq only until the war-torn nation builds an effective security force. \n"I don't think it will take several years," he said. "It will take months." \nIn other developments, US troops fought a gunbattle yesterday with insurgents along Baghdad's busy Haifa Street, sending passers-by scurrying for cover and forcing stores to close down, witnesses said. Also, three insurgents were killed and four wounded in clashes with US forces in Haditha, 220km northwest of Baghdad, according to a Haditha Hospital doctor.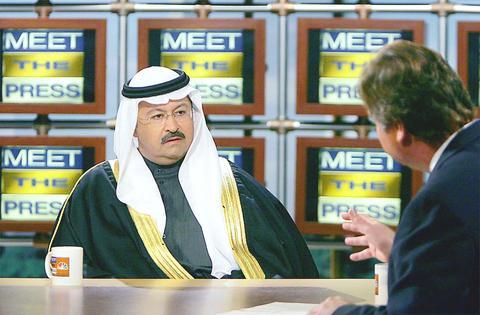 Iraqi interim President Ghazi al-Yawar talks with Tim Russert on NBC's ``Meet the Press'' at the NBC studio in Washington on Sunday. Yawar said that elections in his country could be held by the target Jan. 30 date, if the international community provides sufficient support.
PHOTO: AFP
Comments will be moderated. Keep comments relevant to the article. Remarks containing abusive and obscene language, personal attacks of any kind or promotion will be removed and the user banned. Final decision will be at the discretion of the Taipei Times.