Kuchma supports court ruling
CHANGING TIMES Ukrainian President Leonid Kuchma yesterday he was ready to form a new government after changes to Ukraine's Constitution and repeat election
Ukrainian President Leonid Kuchma said yesterday that the Supreme Court's ruling calling for a repeat presidential runoff must be fulfilled, and said he was ready to form a new government after lawmakers pass changes in Ukraine's Constitution, his spokeswoman said. \nKuchma has been pushing for changes to the Constitution that would weaken the presidency and strengthen parliament, a move that observers see as an effort to hang onto power in case opposition leader Viktor Yushchenko wins the presidency. \nParliament on Saturday broke off a session and adjourned for 10 days after opposition lawmakers refused to link electoral reform -- designed to combat fraud -- with changes to the constitution. \nUkraine's Supreme Court on Friday invalidated the result of the Nov. 21 presidential runoff election and ordered a repeat vote on Dec. 26. Prime Minister Viktor Yanukovych had been declared the official winner, but Yushchenko complained he was robbed of victory and many Western nations refused to recognize the results. \nKuchma also said he was prepared to compromise in reforming the 15-member Central Election Commission, said his spokeswoman, Olena Hromnytska. \nYanukovych remained out of sight. An ally of Yanukovych said on Monday that the prime minister had the flu and was taking a day or two to recover. Yanukovych was also helping prepare for the campaign, the politician said on condition of anonymity. \nYushchenko has pushed for quick passage of the election legislation and called on supporters to continue their siege of official buildings until parliament passes the reforms. \nHe has called for amendments to election law that ban voting by absentee ballots and voting in people's homes, which he said was used by Yanukovych supporters to rig the Nov. 21 vote. The changes must also ensure opposition supporters are represented on election commissions across the nation, he said on Sunday. \nOrange-clad, pro-Yushchenko protesters who have been blocking entrances to the Cabinet offices for more than a week braced themselves for a counter-picket of government employees announced earlier by Deputy Prime Minister Andriy Klyuev. \n"They can picket as long as they want. We will never let them through until we win," said Yuriy Bohuslavsky, a protester from the western city of Rivne. \nYushchenko told throngs of chanting supporters who gathered at Kiev's main square Sunday evening that "the entire world is proud of Ukraine." \n"We are witnessing a struggle between forces of good and forces of evil," he said. \nYushchenko said little about his campaign proposals, but repeated accusations that Kuchma had blocked key electoral changes through his loyalists in parliament. \nHe demanded a parliamentary session that would resolve issues key for "a fair, transparent and democratic vote on Dec. 26." \nMeanwhile, his fiery ally, Yuliya Tymoshenko, said on Sunday that she wants to be prime minister in a new Yushchenko government. \n"I know that if this power will be in my hands, then the people will know that they can expect results from me," she said.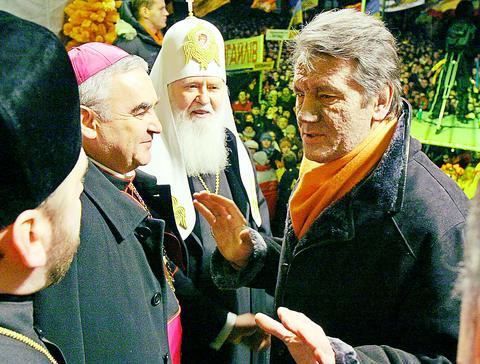 Ukrainian opposition leader Viktor Yushchenko, right, addresses priests as Orthodox Church Head Patriarch Filaret, center, looks on during a rally in Kiev yesterday.
PHOTO: EPA
Comments will be moderated. Keep comments relevant to the article. Remarks containing abusive and obscene language, personal attacks of any kind or promotion will be removed and the user banned. Final decision will be at the discretion of the Taipei Times.