Soyuz carrying US-Russian crew lands safely
A Soyuz capsule made a soft landing in the pitch-dark in Kazakhstan's steppes on Sunday, and its US-Russian crew said they were happy to breathe in the smell of Earth after a long stint in orbit. \nUS astronaut Michael Fincke and Russian Gennady Padalka had manned the 16-nation International Space Station for almost 188 days, while Russian Yuri Shargin spent just 10 days there. \nThe returning crew precisely on time and on target, 88km north of the Kazakh town of Arkalyk. \n"We were very happy to be home," a smiling and relaxed Fincke told a news briefing later. "When they opened the hatch, there was such a beautiful smell that we knew we'd come home." \nOnce he was recovered from the capsule, Fincke called his family via satellite phone. \n"Hi, baby," he exclaimed with joy. \nSeated in a chair next to the charred black Soyuz TMA-4 capsule, Fincke said he had been exhilarated by its re-entry into the atmosphere. \n"It was like fireworks," he quipped. \nDespite their landing in the dark, which complicated the search and rescue operation, and a chilly and rainy morning with squalls of wind, an upbeat Padalka said the crew had been touched by "the warmth of reception" on Earth. \nThe crew were treated to hot tea and then underwent medical checks in an inflatable field hospital. \nFincke looked amazingly fit for a person who had just spent six months in orbit where muscles atrophy in weightlessness. He adroitly alighted from a helicopter and tried to walk on his own when the crew were flown to the regional capital Kustanai later. \nHelicopters with medical staff and recovery teams hovered above the capsule while they waited for daylight to be able to land, a spokesman for mission control said. \nScores of Russian space and military specialists and a fleet of planes and helicopters had taken up position for the pre-dawn landing, ready to take fast action if the capsule veered off its course and fell off target as happened in May last year. \n"It's great to see the Expedition Nine team come home," Bill Gerstenmayer, ISS program manager, told reporters. "It's an amazing testimony to Russia's space program and to the design of this capsule, which has been around so long." \nRussian spacecraft have become the sole means of sending crews and cargo to the ISS since February 2003, when the US space shuttle fleet was grounded after the Columbia craft disintegrated over Texas, killing all seven people on board. \nShuttle flights may resume in May or June next year, US space officials say. \nPadalka and Fincke each made four spacewalks -- instead of the originally planned two -- and each time in Russian-made suits. Fincke's first spacewalk in a US suit ended abruptly after it showed a pressure drop in his oxygen tank. \nDuring their accident-prone mission, the US-Russian crew had twice lost the station's orientation in space, and on one occasion mission control briefly lost all contact with them.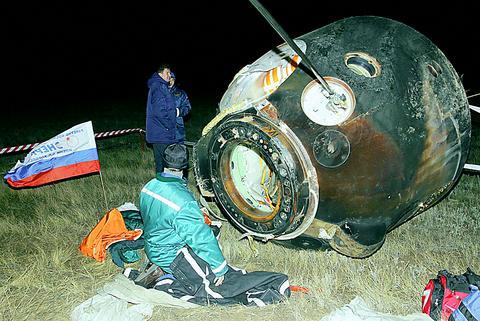 Officials inspect the Russian Soyuz TMA-4 space capsule after its landing near Arkalyk some 350km from Kazakh capital of Astana early yesterday. Russian cosmonauts Gennady Padalka, Yuri Shargin and US astronaut Mike Finkle landed safe.
PHOTO: AFP
Comments will be moderated. Keep comments relevant to the article. Remarks containing abusive and obscene language, personal attacks of any kind or promotion will be removed and the user banned. Final decision will be at the discretion of the Taipei Times.