US plan for Iraq aims to control cities
SHOWING A STRATEGY Countering criticism that the US lacks direction in Iraq, a classified report targets dozens of sites for US military action before elections
Pentagon planners and military commanders have identified roughly 20 to 30 Iraqi towns and cities that they say must be "brought under control" before elections can be held there in January, and have devised detailed ways of deciding which ones should be early priorities, according to US officials. \nRecent military operations to quell Iraqi opposition to the US-supported regime in Tal Afar, Samarra and south of Baghdad are the first and most visible signs of a new six-pronged strategy for Iraq approved by the Bush administration. While elements of the plan have been discussed previously, officials described it in much more detail. \nAs US military deaths have increased in Iraq and commanders struggle to combat a tenacious resistance and a deadly spate of bombings, even administration officials involved in creating the plan acknowledge that US forces face a difficult task and that success is far from guaranteed. \nFrom the standpoint of President George W. Bush, the disclosure of the new plan is an attempt to address one of Senator John Kerry's criticisms -- that the administration has no plan for Iraq. \nThe new strategy was written this summer and laid down in a series of classified directives to the US Embassy in Baghdad and to the US military headquarters there. The instructions are an acknowledgment that the opposition had seized the initiative in Sunni strongholds north and west of Baghdad and in the southern city of Najaf, considered holy by Shiites. \nFor each of the cities identified as problematic, a set of measurements was created to track whether the rebels' grip was being loosened by initiatives of the new Iraqi government, using such criteria as the numbers of Iraqi security personnel on patrol, voter registration, economic development and health care. \nFor each city, a timeline was established for military action to establish Iraqi local control, if purely political steps by the government proves insufficient. \n"We're working on them by population size, by importance to the election," said one senior official. "That's where the bad security situations are, and that's where we really need to make some major political and economic changes in the next several months if we're going to have a successful nationwide election," he said. \nBoth the overall strategy and the specific military component were described by senior administration, Pentagon and military officials in interviews over the last two weeks. \nThe overall political, military and economic strategy is contained in a classified document titled US National Strategy for Supporting Iraq. The plan, which is being coordinated by the National Security Council, sets six priorities: to neutralize insurgents, ensure legitimate elections, create jobs and provide essential services, establish foundations for a strong economy, develop good governance and the rule of law and increase international support for the US-led effort. \nWhile the broad themes are not new, officials admit that those missions have not been carried out successfully during the first year following the end of formal warfare. Many in the administration and the military now view the past working relationship of L. Paul Bremer, the former chief of the US-led provisional authority in Baghdad, and a recently departed military commander as ineffective. \nThese officials say they hope that the new US-backed regime, the arrival of a new US ambassador and the creation of a new military position to command Iraq operations offer a better chance for success.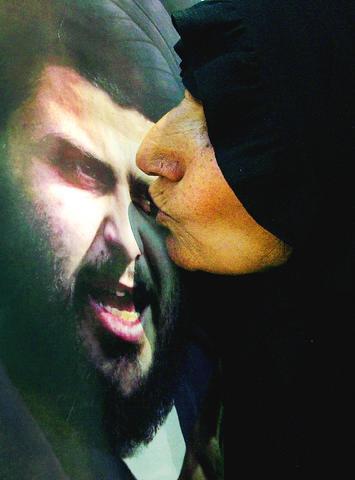 An Iraqi Shiite woman kisses a poster with a picture of radical Shiite cleric Muqtada al-Sadr during a demonstration in central Baghdad last month.
PHOTO: AP
Comments will be moderated. Keep comments relevant to the article. Remarks containing abusive and obscene language, personal attacks of any kind or promotion will be removed and the user banned. Final decision will be at the discretion of the Taipei Times.