Sudan challenges US to send soldiers to Darfur
Sudan's UN ambassador challenged the US to send troops to the Darfur region if it really believes a genocide is taking place, while British Prime Minister Tony Blair arrived in Khartoum to urge the government to end the conflict. \nSudan's UN envoy Elfatih Mohamed Erwa was asked Tuesday about the effect of the US "genocide" designations when both Bush and his Democratic challenger John Kerry ruled out sending US troops to end the 19-month conflict in their debate Thursday. \n"If it is really a genocide they should be committed to send troops," the Sudanese ambassador said. "This is why I don't think they're genuine about its being genocide." \nWould US troops really be welcome? \n"I won't say that I welcome them because I don't have the authority to say that, but if they want to do that, let them talk to us," Erwa said. \nUS Ambassador John Danforth, when told that Erwa raised the possibility of discussing the deployment of US troops, said: "I've never heard of such a thing before. It's certainly an attention grabber." \n"It's a curious idea, but I don't think it has a future," he said. \nThe 1948 genocide convention defines that act as a calculated effort to destroy a national, ethnic, racial or religious group in whole or in part. \nViolence broke out when two non-Arab Darfur rebel movements took up arms in February 2003 against government installations, saying they wanted a bigger share of power and Sudan's resources. More than 50,000 people have been killed and 1.4 million driven from their homes in what the UN says is the world's worst humanitarian crisis. \nLast month, the US State Department said that in recent interviews with 1,136 Darfur refugees in neighboring Chad it found a "consistent and widespread pattern of atrocities committed against non-Arab villagers." It added that about a third of the refugees who were interviewed heard racial epithets while under attack. \nIn Khartoum, Blair was to meet with President Omar Ahmed al-Bashir and his deputy Ali Osman Mohammed Taha, on the first leg of a three-day Africa visit. \nHe is expected to urge al-Bashir to reach a peace deal with rebels wreaking havoc in the Darfur region, to allow aid organizations proper access to refugees, and allow peacekeepers from the African Union. \nDue to limited time, Blair will not visit Darfur, with his spokesman saying his presence would be best used hammering home the international community's message to the Sudanese government. \nThe Prime Minister is making his five-hour flying visit to Sudan, coping with temperatures expected to reach a sweltering 42 Celsius degrees with accompanying high humidity, despite having undergone a heart procedure only last week. \nBlair will fly later in the day on to the Ethiopian capital Addis Ababa where he will chair the second meeting of his Commission for Africa designed to pave the way for solutions to the continent's long-term problems.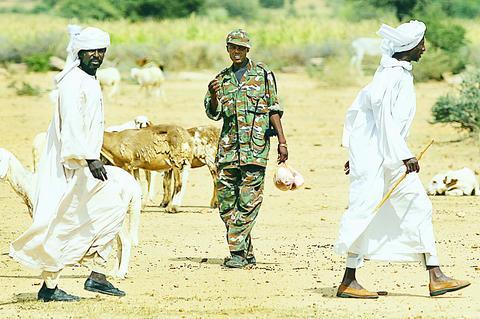 A soldier in a miltary unit calling themselves variously the Border Intelligence Division, Second Reconnaisance Brigade or the Quick and the Horrible, also believed to form part of the janjaweed militia, walks around the weekly animal market in Mistiria in northern Darfur, Sudan, on Tuesday. Mistiria is the home town and base of Musa Hilal, the alleged coordinator of the militia known as the janjaweed, who have been accused of committing atrocities in the conflict in Darfur.
PHOTO: AP
Comments will be moderated. Keep comments relevant to the article. Remarks containing abusive and obscene language, personal attacks of any kind or promotion will be removed and the user banned. Final decision will be at the discretion of the Taipei Times.