Palestinian olive oil threatened by security wall
MONEY SPINNER A brand of oil sold in the UK by Palestinian supporters has been selling like hot cakes, but the barrier is putting the harvest in danger
The saying goes that the personal has become political. Now even the olive oil in your salad dressing can be political. \nBritish supporters of the Palestinian cause have launched an extra virgin olive oil grown in the lush groves of the occupied territories. \nProfits will go to Palestinian farming cooperatives in the West Bank, where access to markets is limited. But this particular harvest is in danger, they say, from Israel's controversial security wall, which is destroying some olive groves and dividing Palestinian agricultural lands. \nDistributors say they have already sold three times the number of bottles that they expected to. \nWithin two weeks they expect to hold talks with a British supermarket, and hope that it will stock it. \nThe oil is sold by Zaytoun, the Arabic word for olive, and is marketed by a group of four volunteers from pro-Palestinian groups. \nThe bottles bear the slogan "Resisting the occupation by insisting on life." A plan to have a tank on the label was dropped for fear that some stores might refuse to sell it and consumers might be put off. \nDistribution has so far been limited to liberal Jewish groups, pro-Palestinian groups and charities. \nConsumer reaction has been favorable, says Moira Bridge of the Fairer World store in York. Apart from the political selling point, the oil is good enough to deserve a place on the shelves on its own merits, she says: "People see it as a quality and fair-trade product and they're happy to pay the price." \nAtif Choudhury, of the International Solidarity Movement, a group which has been a thorn in the side of the Israeli authorities, saw no contradiction in trying to help poor farmers in a war zone by selling their product to the concerned middle classes in Britain: "This is about people's ability to trade. You can talk about globalization all day, but people have the right to trade and access to a marketplace." \nJane Straker of Myriad organics store in Ludlow said her customers had been waiting for the oil to arrive: "Selling it is something I can do to help the Palestinian people. They have a need for an outlet and trade can be a way to help people rather than just aid." \nIt is estimated that nearly half of Palestine's olive harvest goes unsold, often meaning it spoils. \nSelling the oil abroad is thus a way for the Palestinians to increase the returns from their harvest. The oil will also be sold in Japan, Spain, Belgium and the US. \nEven before Israel began to erect the security wall, which it says is necessary to defend itself from suicide bomb attacks, curfews and violence made an arduous life for Palestinian farmers even harder. \nHadas Lahav, who is from Sindyanna, an Israeli group which helps Palestinians to sell olive oil, said: "I think people in the world think the Middle East can produce only terror. It is important to show it's not just terror that's produced, but that we can produce beautiful things like olive oil."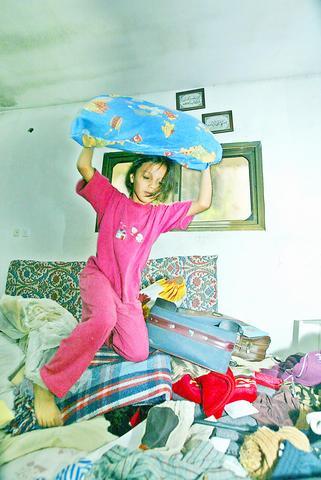 A Palestinian girl, Maram Sanakre, sorts out her belongings in a room which was searched by Israeli troops yesterday in Balata refugee camp near the West Bank city of Nablus. Israeli troops searched several houses looking for wanted militants.
PHOTO: EPA
Comments will be moderated. Keep comments relevant to the article. Remarks containing abusive and obscene language, personal attacks of any kind or promotion will be removed and the user banned. Final decision will be at the discretion of the Taipei Times.