Portuguese firefighters struggle as conflagrations ravage tourist sites
Hundreds of firefighters in Spain and Portugal were battling raging fires Thursday which have destroyed thousands of hectares of forests and farmland.
Portugal's southern province of Algarve, one of Europe's top tourist destinations, was the worst-hit area as more than 500 firefighters backed by water-dropping aircraft struggled to put out a blaze which has raged since Monday in hills above the city of Loule.
Thick black smoke from the blaze could be seen from the beaches and resorts that dot the coast some 50km further south as ash rained down on a large part of the interior of the province, images on Portuguese television showed.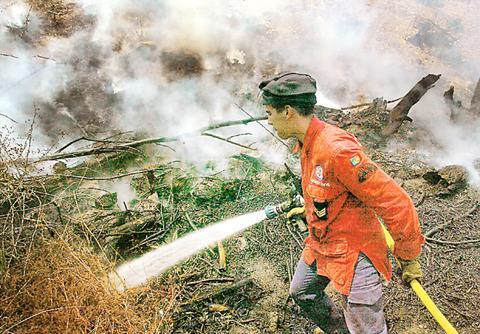 A fireman sprays water in the town of Barranco Velho in the Portuguese province of Algarve on Thursday.
PHOTO: REUTERS
"They say the world was once destroyed by water. Now it looks like it is going to be destroyed by fire," said a local resident, Aldina Valente, adding the thick smoke was blocking out the sun.
A priest led locals in prayers overnight as the fire threatened several houses but firefighters managed to divert the flames from built-up areas, reports said.
The Algarve was badly hit by a wave of fires which swept Portugal last summer.
Last summer's fires killed 20 people and destroying a record amount of land, and tourism officials said the new wave of fires would compound the damage done to the sector last year.
"Our main tourism zone, the coast, was not much affected by the fires, but nature tourism sites, which are in the interior of the province, are completely destroyed. It is depressing for anyone who visits," the director of the Algarve Tourism Board, Helder Martins, told Jornal de Noticias.
Comments will be moderated. Keep comments relevant to the article. Remarks containing abusive and obscene language, personal attacks of any kind or promotion will be removed and the user banned. Final decision will be at the discretion of the Taipei Times.