SARS hero released from Chinese jail
THE GOOD DOCTOR Jiang Yanyong, the surgeon who exposed the cover-up of SARS last year, has been release from military custody after crticising the Tiananmen Massacre
Chinese military authorities have released the surgeon who exposed China's SARS cover-up and condemned the 1989 crackdown on democracy protesters, apparently bowing to the doctor's status as a local hero and to international pressure to free him, people informed about his case said.
The doctor, Jiang Yanyong (蔣彥永), 72, returned home late Monday night after about 45 days in military custody, where he underwent political indoctrination sessions and was investigated for possible criminal activity, said one person who had been told about his case. He is not expected to be charged with a crime.
Jiang, who is a senior Communist Party member, is expected to be kept under surveillance and to be prohibited from making contact with outsiders.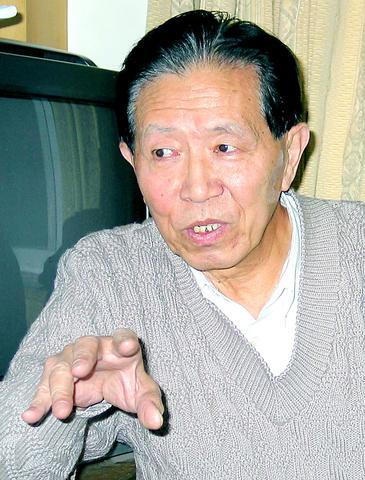 PHOTO: AP
Yet the decision to allow him to return home appears to amount to a rare victory for an individual who directly and repeatedly confronted China's Communist Party leaders. In a letter released in February, Jiang pressed state leaders to admit that the Tiananmen Square Massacre, perhaps the single most sensitive political vulnerability for China's current generation of leaders, was wrong.
While there is no evidence that senior officials are reconsidering their stance that the 1989 crackdown was justified, the decision to detain and then release Jiang suggests that leaders are conflicted when handling high-level dissent on the issue. That may fuel hopes that the party will sooner or later apologize for the bloody suppression of protesters that year.
"I think many people believe that detaining him was stupid," said a party official interviewed while Jiang was being held. "On the one hand, he can't be allowed to criticize without punishment. But on the other, party elders do not allow their own people to be punished for nothing. He is elderly, he has a certain status, and he did nothing wrong."
The detention prompted sustained international criticism from human rights groups. US National Security Advisor Condoleezza Rice urged Foreign Minister Li Zhaoxing (李肇星) of China to release Jiang when she visited Beijing earlier this month.
There was no official announcement of Jiang's detention on June 1, and the government has also said nothing publicly about his release. Jiang's wife and children could not be reached for comment.
But it seems likely that authorities will claim internally that Jiang showed remorse for his actions and, in Chinese party terminology, made progress in his political thinking under the instruction of military authorities.
While in custody Jiang was made to write a "thought report" each day. By the end of his detention, Jiang had altered the report in a way that may allow his interrogators to claim that he had admitted errors, the person informed about his case said.
Jiang's supporters grew optimistic about the prospects for his release earlier this month. On July 7, two officers from the military's General Logistics Department visited Jiang's wife, Hua Zhongwei, and informed her that Jiang had "shown progress in his thoughts." Hua was shown a seven-page statement written by Jiang that contained reflections that authorities argued were confessional in tone.
The doctor, this person said, wrote that he had learned that the "Communist Party confronted by the student protests was much like a patient with complicated colorectal cancer where, without emergency surgery, death was imminent." The statement suggests that Jiang acknowledged the threat the party perceived in the student-led protests. It does not directly endorse the decision to crush dissent.
Jiang became a well-known national and international figure last year. At that time he revealed in a letter to top leaders, which was also obtained by the international new media, that numerous Beijing hospitals, including the elite No. 301 Military Hospital, where he is a semi-retired senior surgeon, had far more SARS patients than health authorities had admitted at the time.
Discussing the event is taboo in party circles. Officials fear that re-opening that wound of Tiananmen could lead to demands for political reform and threaten current leaders, nearly all of whom owe their positions to the political upheaval that followed the crackdown.
In a letter addressed to the leadership, and obtained by The New York Times and other publications on the eve of the annual legislative session in March, Jiang described his own role treating wounded civilians the night of the crackdown, June 4, 1989. He said that two party elders, including former president Yang Shangkun, now deceased, had later told him that the party would sooner or later need to admit that killing civilians was wrong.
The letter was treated as a political emergency and the surveillance around Jiang was tightened. But it was not until June 1 when, under instructions from Jiang Zemin, the military chief and China's semi-retired top official, Jiang and Hua were intercepted on their way to an appointment and taken into custody, people told about his case said.
The conditions of their internment at a military medical facility were unusually comfortable, the person close the family said. Jiang was given a private room and allowed to watch television and read newspapers. Hua, who is a medical researcher, was allowed to visit her husband regularly. She was released in mid-June.
But people close to the family said they feared that authorities were seeking to build a legal case against Jiang. One possibility was to charge him with subversion and colluding with foreign forces to undermine China's political system. Another was to compile evidence of his links to Taiwan, where Jiang has relatives, and accuse him of spying for China's archrival.
In the end they appear to have failed to compile evidence of a crime, or decided that any charges against him would be regarded as persecuting the man who told the truth about SARS.
It is unclear if authorities will suppress any future political statements by Jiang. But in a letter sent to his wife last week, he said he now intends to tackle another medical emergency that officials have only begun to fully recognize.
"When I get out, the next thing I will direct my energies to is the problem of AIDS," he wrote.
Comments will be moderated. Keep comments relevant to the article. Remarks containing abusive and obscene language, personal attacks of any kind or promotion will be removed and the user banned. Final decision will be at the discretion of the Taipei Times.