Death toll from floods nears 400 in China
Mudflows and landslides in southern China have killed at least 10 people in recent days and more rain was forecast as this year's flood-related death toll rose to nearly 400, state media said yesterday.
The semi-official China News Service said 381 people had been killed so far by flooding, 98 were missing and nearly 200,000 houses had been destroyed throughout the country.
Direct economic losses have reached 14.85 billion yuan (US$1.79 billion), it said.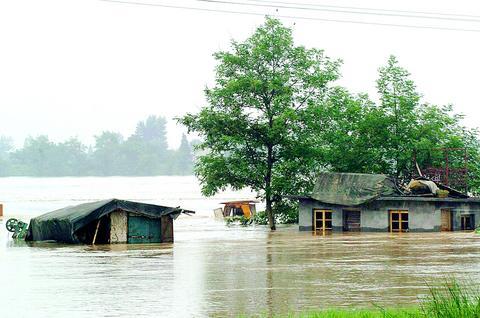 Flood waters nearly submerge homes along the Yuanjiang river in Changde, central China's Hunan Province yesterday, where flooding along major rivers has worsened, affecting some 2.6 million people. Pounding rains and devastating floods sweeping China are exacting heavy damage and uprooting millions of people, while the death toll steadily climbs. Almost 400 people have died thi year from flooding in China's most receent floods.
PHOTO: AFP
Heavy rain across southern China has flooded crops, washed away houses and forced thousands of people to evacuate their homes, the reports said.
The provinces and regions of Hunan, Yunnan, Henan, Guizhou, Guangxi and Sichuan were the hardest hit, the China News Service said on its Web site.
Rains were forecast for much of the week, the China Daily quoted officials at the Central Meteorological Observatory as saying.
In Binyang county in Guangxi, mudflows and landslides killed eight people and injured four on Monday, the Xinhua news agency said.
At least 20 people had already died in Binyang in the past month because of heavy rains, Xinhua said.
In neighboring Hunan province, floods killed two people in the county of Huaihua in the northwest, the China Daily said.
Some 102,000 people had fled their homes.
The water level in a number of towns was up to 6m, the newspaper said.
State television showed footage from flooded areas in Hunan, where people floated down inundated streets in boats and rescue workers plucked others from roofs.
In Hainan, three women were killed on Tuesday when lightning struck a tree they had gathered under for shelter in a downpour, Xinhua said.
In Yunnan province, two people were killed, three injured and 53 reported missing yesterday after a landslide and mudflow in Yingjiang county, it said.
A mudflow washed away 49 people in Lushan, Zhidong and Nongpo villages on Tuesday, it added.
The torrential rains had affected nearly 2.7 million people in northwestern Hunan, state media reported earlier.
Xinhua reported that due to washed out roads the majority of relief goods were yet to reach the most affected areas, but various agencies were setting up relief stations where possible.
China has been on high flood alert since Monday when President Hu Jintao (胡錦濤) issued a warning about further flooding, a perennial scourge.
Comments will be moderated. Keep comments relevant to the article. Remarks containing abusive and obscene language, personal attacks of any kind or promotion will be removed and the user banned. Final decision will be at the discretion of the Taipei Times.