Iraq threatens retaliation on neighbors
FOREIGN POLICY Baghdad will retaliate against nations supporting insurgents, officials said. Meanwhile an Iraqi council member was killed in an attack in Basra
Iraq is ready to retaliate against countries it accuses of supporting violence wracking the country, the country's defense minister warned yesterday.
Hazim al-Shaalan mentioned no countries by name but accused old foe Iran of "blatant interference."
Iraq has also complained in the past about guerrilla fighters entering the country from Syria.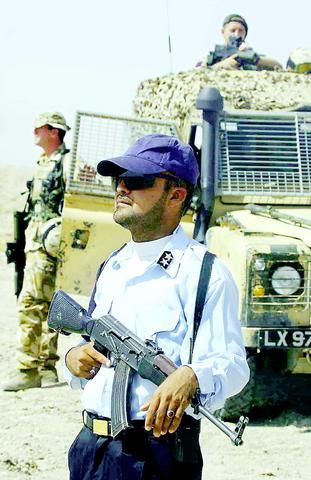 An Iraqi policeman and British soldiers man a checkpoint on the outskirts of the southern Iraqi city of Basra yesterday. A senior official in Basra was shot dead along with two of his guards by unknown assailants as he was heading to work, officials and a relative said. Photo: AFP
"We are prepared to move the arena of the attacks on Iraq's honor and its rights to those countries," he was quoted as saying by the London-based Asharq al-Awsat newspaper.
"We've spoken to them and confronted them with facts and evidence, but none of them have taken any action to stop supporting terrorism in Iraq," he said.
Iraq blames a wave of bombings and assassinations, which has claimed hundreds of lives including senior Iraqi politicians, on remnants of Saddam Hussein's regime as well as foreign Islamic militants who have entered from neighboring countries.
"[Iranians] confess to the presence of their spies in Iraq who have a mission to shake up the social and political situation," the defense minister said.
"Iranian intrusion has been vast and unprecedented since the establishment of the Iraqi state," he said.
Washington, too, has accused Tehran of seeking to destabilize and gain influence in Iraq, which like Iran, is predominantly Shiite Muslim. Tehran denies interfering in Iraqi affairs.
Council member killed
In other developments, an Iraqi council member running for governor in the southern port city of Basra was killed as he left for work yesterday morning, along with his driver and bodyguard, an Iraqi official said.
Hazim al-Aynachi was pulling out of his driveway at 8am when gunmen opened fire on his car.
Another person was injured, said council head Abdul Bari Faiyek.
Faiyek blamed the killing on opposition to elections for a local governor which were due to occur yesterday, but were delayed in response to the shooting.
``Many threats have been directed to the eight council members nominated to the post,'' Faiyek said, adding that another councilman escaped an assassination attempt on Monday.
The shooting was the latest salvo by insurgents determined to undermine the country's post war reconstruction.
On Monday a fuel tanker rigged as a massive bomb hurtled toward a Baghdad police station and exploded, killing nine people, wounding 60, and leveling a huge section of an industrial neighborhood.
In the holy city of Najaf Iraqi police discovered a weapons cache including 230 rockets and 200 mortar shells on Monday, police chief Brigadier Hussein Mohammed said.
Police also arrested suspected oil smugglers breaching an oil pipeline that connects the southern and northern oil fields, in Bahr al Najaf, 50km west of Najaf city, Colonel Mohammed al-Bahash said.
He said three oil tankers were confiscated.
An Egyptian truck driver held hostage was freed on Monday evening and taken to his country's embassy.
Alsayeid Mohammed Alsayeid Algarabawi was abducted from a truck he had driven from Saudi Arabia into Iraq.
Interim Prime Minister Iyad Allawi has promised to crack down on insurgents and restore security so that the reconstruction of his country can move forward.
In his first foreign trip since taking office June 28, Allawi thanked Jordan's King Abdullah II for helping train thousands of Iraqi troops.
Comments will be moderated. Keep comments relevant to the article. Remarks containing abusive and obscene language, personal attacks of any kind or promotion will be removed and the user banned. Final decision will be at the discretion of the Taipei Times.