Kerry, Edwards say they're the American `dream team'
Senators John Kerry and John Edwards campaigned together for the first time on Wednesday and declared themselves advocates for ordinary Americans squeezed by US President George W. Bush's economic policies.
In front of a huge banner proclaiming: "Kerry and Edwards: A New Team for a New America," the presumptive Democratic presidential nominee told thousands of supporters he and his newly minted running mate were America's "dream team."
"We've got better vision, better ideas, real plans, we've got a better sense of what's happening to America and we've got better hair," Kerry said, a reference to the well-coiffed Democratic team.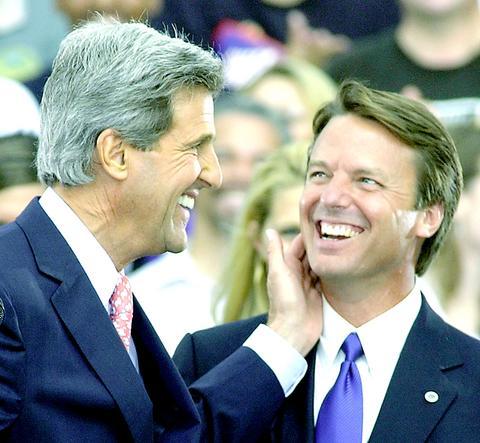 US Democratic vice presidential candidate, Senator John Edwards, right, receives a pat from his running mate, Senator John Kerry, left, during a rally in Cleveland, Ohio, on Wednesday.
PHOTO: REUTERS
Edwards, a former rival for the nomination, reprised the "two Americas" theme of his primary campaign, blaming the White House for "the middle-class squeeze" and calling for "one America that works for everybody."
Kerry and Edwards are betting that the Nov. 2 election, in which they hope to unseat Republican incumbents Bush and Vice President Dick Cheney, will turn largely on bread-and-butter issues despite an improving economy overall and the prominence given to national security by the daily news from Iraq.
During his first public appearance with Edwards, Kerry threw his arm around the shoulders of his new No. 2, and three times told reporters the freshman senator from North Carolina was "ready to help lead America."
In a carefully choreographed event with their wives and children almost 24 hours after Kerry announced his selection, the Massachusetts senator sought to rebut Republican criticism of Edwards' relative political inexperience, especially on national security.
Bush, campaigning in Edwards' home state, criticized the vice presidential candidate by questioning whether he was up to the top job.
In Dayton, Ohio, Kerry shot back, saying Edwards had "more experience than George Bush and better judgment than he does when he became president of the United States."
Bush was in his second term as governor of Texas when he won the White House.
"He [Bush] was right that Dick Cheney was ready to take over on day one -- and he did, and he has been ever since," Kerry said.
Democrats hope Edwards can broaden Kerry's appeal to undecided and swing voters who might tip the balance in what is expected to be an extremely close race with Bush on Nov. 2.
A political natural, warm and energetic with a Southern drawl, the boyish-looking 51-year-old Edwards had crowds in Cleveland and Dayton chanting, cheering and stomping.
His personal skills help offset what some critics say are negatives for Kerry -- his sometimes wooden speaking style and his New England heritage.
Edwards is the son of a mill worker who made a fortune as a trial lawyer and was elected to the US Senate in 1998. Like Bush, Cheney and Kerry, Edwards is a millionaire.
For their first joint campaign swing, Kerry and Edwards chose Ohio and Florida, crucial battleground states. No Republican has won the White House without winning Ohio, and Florida ultimately decided the 2000 election.
Campaign advisers defended the depth of Edwards' resume, pointing out he had served on the Senate Intelligence Committee and the congressional panel investigating the Sept. 11, 2001, attacks on the US and was a leader on bioterrorism.
"He brings a great deal to the table and actually more than the current president did when he was elected in 2000," campaign manager Mary Beth Cahill said on ABC's Good Morning America.
Comments will be moderated. Keep comments relevant to the article. Remarks containing abusive and obscene language, personal attacks of any kind or promotion will be removed and the user banned. Final decision will be at the discretion of the Taipei Times.